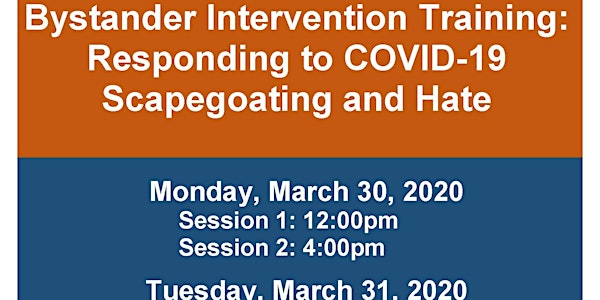 Responding to Scapegoating During the COVID-19 Outbreak
Bystander intervention training addressing COVID19 related bias/hate.
About this event
The New York City Commission on Human Rights in partnership with the Center for Anti-Violence Education will host a series of bystander intervention trainings addressing COVID 19 related bias and hate.
In recent weeks, there has been an increased of bias incidents and hate-violence on the basis of race, nation of origin, religion and other protected categories that stem from stigma around COVID-19. This training will provide strategies for disrupting the current scapegoating we have witnessed.
Given the nature of this training, and in order to provide an online interactive dialogue, capacity has been set at 30 participants per session. Once you respond, a training link will be emailed to you for your respective session.
This training will be held on the following dates and times:
March 30 at 12Noon and at 4pm
March 31 at 12Noon and at 4pm.
Due to capacity, duplicate reservations will be permitted.