Description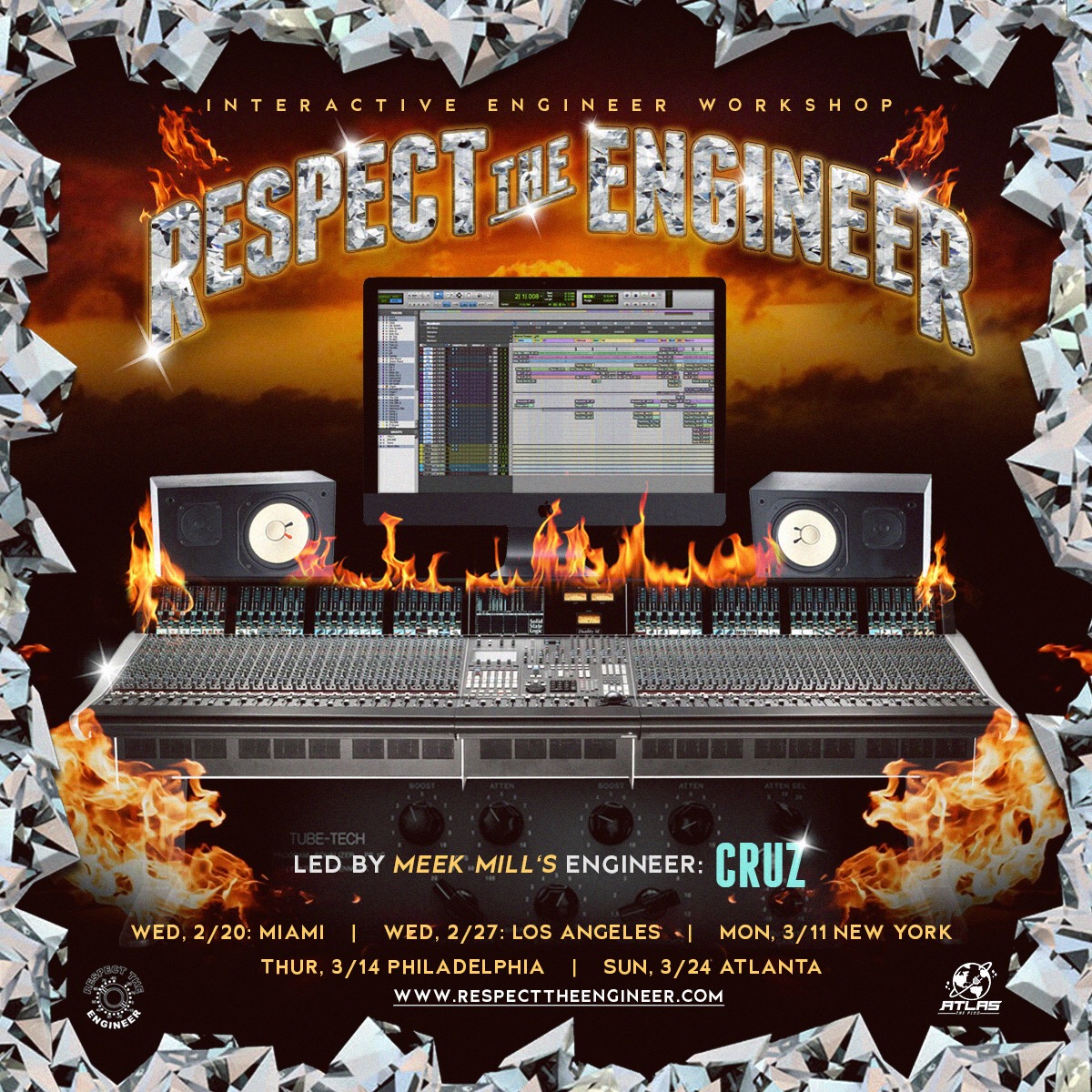 After years of grinding, Cruz has recently become the mastermind responsible for crafting the signature Dreamchasers sound. Although many people would say that he has made it, Cruz will tell you that he is only just getting started. Now, more than ever, he is making it his mission to help others coming up and empower the engineer community.
"Respect The Engineer" Workshop is a half-day experience and unique opportunity that allows you to sit in the studio with Cruz as he unveils all he has done to get him to where he is today. You'll get an inside look into Cruz's personal tips and tricks that he has acquired over the years working with the likes of Meek Mill, DJ Khaled, Rick Ross, J. Cole and others. Not only will you get to hear his experiences, but you will also get a chance to play Cruz your personal mixes. While listening to your work, Cruz will give you constructive feedback and invaluable advice on how to maximize your skills and perfect your sound. Don't miss out on this opportunity to work with a multi-platinum engineer!
Dates and Cities
2/20 - Miami, FL
2/27 - Los Angeles, CA
3/11 - New York City, NY
** NYC ONLY - After-party and CHAMPIONSHIPS Beat Battle at DROM with Nick Papz, Cruz, Atlas the Plug & more! One producer will win the chance to collab with Dreamchasers Nick Papz. **
3/14 - Philadelphia, PA
3/24 - Atlanta, GA


4 HOURS IN THE STUDIO WITH CRUZ
1 Hour: Check-In and Networking. There will be a small group of attendees, so this is the perfect opportunity to also network with each other and meet other engineers in your city!


1 Hour: Cruz dives into his background and how he got his start along with tips and tricks of engineering based on our attendees needs.


2 Hours: Cruz will take time to listen to your mixes and songs (pro tools session, if applicable) and provide feedback, answer questions and help you to perfect your music.
FAQ
What does my ticket include?
Your ticket includes admission into Respect the Engineer in your selected city, one guest pass (HINT: Splitting the cost and going half with another person could be a good option), Respect the Engineer raffle, half off everything on Cruz's site at breakitdwn.com (includes merch), AND one entry into a giveaway for 2 tickets to the Meek Mill concert coming to your city!
Where is the event located?
The exact studio address & contact information will be sent to you in the confirmation email no later than 1 week before the event is scheduled in your city.
WIll I get the chance to work with Cruz after the event?
YES (maybe!) Cruz will pick one person to collab with after Respect the Engineer so come with your best content and best mixes!
Will I get to meet Cruz?
Yes. We are selling only a small amount of tickets per city so this session is the perfect opportunity to meet Cruz and get specific feedback and advice from him on your work but also to network with like-minded engineers and producers in your city!
Date and Time
Location
Refund Policy