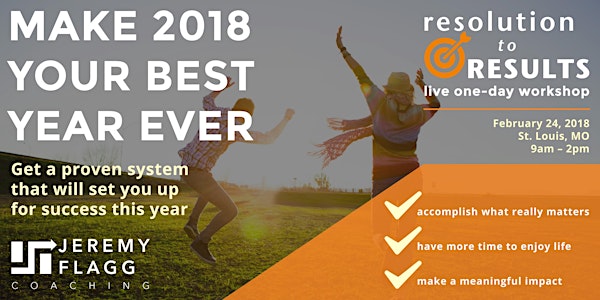 Resolution To Results Goal-Setting Workshop
By Jeremy Flagg - Author, Life Coach, and Personal Development Expert
Date and time
Saturday, February 24, 2018 · 9am - 2pm CST
Location
CIC@CET 20 South Sarah Street St. Louis, MO 63108
Description
Do you feel frustrated and disappointed by your lack of achievement this past year?
As a high achiever who is interested in goal setting, you understand that success doesn't just happen.
You started out your year with the best of intentions only to realize how easy it is to be caught off guard by what life throws at you, get too busy to focus on what matters most, and feel stuck in "survival mode" while living in a world full of economic and political uncertainty.
It can feel frustrating and disheartening to look toward the future and see so many barriers blocking the way to the life of your dreams.
But what if 2018 were different?
What if there was a way for you to accomplish your goals, have more time to enjoy life, and make a meaningful impact this year?
---
The clarity you need to create the life you really want is only one step away...
My name is Jeremy Flagg, and if you're a high achiever, business leader, entrepreneur, freelancer, parent, or someone who just wants to accomplish more and have greater clarity in your life, I can help.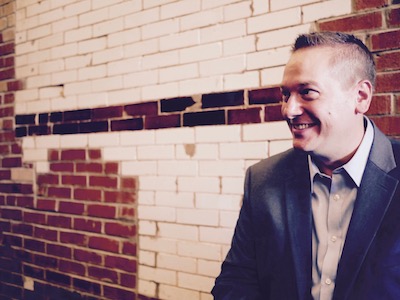 As an Author, Life Coach, and Personal Development Expert I've learned a thing or two about getting things done and accomplishing personal goals.
After I found myself fired from my dream job I started my own business while also being a stay-at-home dad. I've been fortunate to achieve some big dreams in my life including building an online presence, coaching many clients into their very own success stories, and writing two books (Your Best Is Next & Live Your Success Story) all while staying happily married to my college sweetheart and raising our two kids together.
All of these accomplishments were once just goals on my list.
Let me reassure you, I understand how easy it is to invest all of your time and energy in a few areas while neglecting meaningful relationships and other priorities.
What I've learned, though, is how to consistently accomplish the goals I've set for myself year after year despite the setbacks and curveballs life has thrown at me along the way.
---
People often ask me, "How do you do it?"
The answer lies in a proven goal-setting framework. Over the years I've tested lots of different ways to help my clients turn their dreams into reality and formulated the simplest, most-powerful process for getting things done – It's called Resolution To Results.
Let me ask you this:
Would you be willing to invest a few hours to set yourself up for a year of success?
That's what Resolution To Results is designed to do! It's a powerful live one-day workshop that empowers you to set yourself up for your best year yet by turning those New Year's resolutions into real-world results.
Invest in one day now to make the remaining 364 the best you've ever had.
Want to take control of your life and get better results in 2018? This is the most efficient way to get focused and start accomplishing what matters.
---
Here's what you'll learn:
A simple process that will make you 42% more likely to accomplish your goals in 2018

How to create lasting motivation and momentum even when the going gets tough and you want to give up

The easy way to quickly identify what's holding you back from achieving the things that matter most and keeping you stuck

How to leverage the lessons from your past to achieve extraordinary success next year

One critical ingredient to experience happiness and how you can harness it through the power of goal setting
---
The Time to Turn Your Resolutions Into Results is Now!
What would it be like to reach the end of 12 months knowing that you accomplished what you set out to do? To feel the satisfaction of making things happen in your life? How would it feel to finally mark off a goal that's been on your list for years and years?
If you want to follow a proven process for having the best year you've ever had, this event is for you!
All of this is within your reach! You just have to take the first step and get on board.
Make 2018 the year that closes the gap between your reality and your dreams. It's fun, it's empowering, and it's easier than you think.
Register for Resolution To Results and join us today. I look forward to seeing you in the workshop.
Your partner in progress and success,
––
Jeremy Flagg
---
Make 2018 Your Best Year Ever!
Invest in one day now to make the remaining 364 the best you've ever had.
REGISTER NOW
About the organizer
Hi, I'm Jeremy Flagg. I'm a Life Coach and Personal Development Expert that loves helping high achievers, business leaders, and entrepreneurs reach their potential, improve their relationships, and maximize their impact.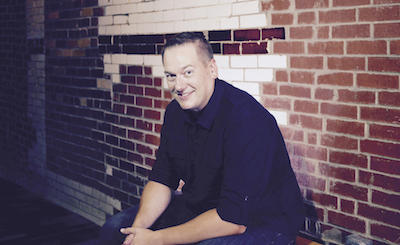 Through my coaching, speaking, podcasting and writing I highlight the importance of developing and growing into your best self if you want to be successful in every area of your life and business.
In my latest book, Your Best Is Next, I shared how my own breakthrough came on the heels of a massive breakdown when I was fired from my dream job and left without any idea of what I might do next. I know what it feels like to be completely overwhelmed by the circumstances life has handed you while trying desperately to pursue a better life…to feel stuck in a moment that you don't know how to change and stressed because nothing seems clear.
Refusing to allow my history to define my destiny, I overcame the pain of my past and took control of my life's direction by applying the timeless principles of personal development that I now use to help my clients as a professionally-certified Life & Leadership Coach.
I've helped hundreds of clients reach their potential, increase their incomes, save their marriages, expand their influence, and achieve breakthrough success by showing them the simple strategies and proven principles that allow them to live their success story and I'd love to do the same for you.