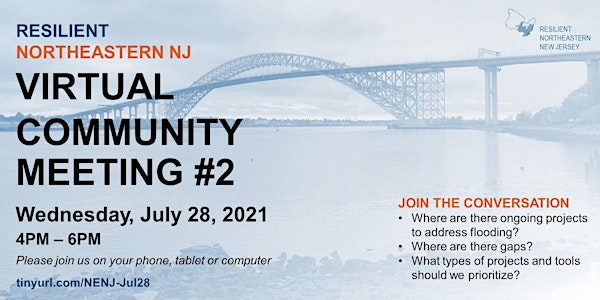 Resilient Northeastern NJ - Virtual Community Meeting 4-6 PM
We're developing an action plan to address current and future flooding. Join to share your feedback on priorities and strategies!
About this event
The Resilient Northeastern NJ project aims to develop flood risk and resilience solutions for the Northeastern New Jersey region, which includes Jersey City, Newark, Hoboken, and Bayonne. The project is funded and spearheaded by NJDEP, and is led by the municipalities, Hudson County, as well as two community-based organizations (HOPES CAP and Ironbound Community Corporation).
Join us at our July community meeting about the project. We are offering two sessions with the same content: 4-6 PM or 6-8 PM. You can access the meeting via this Eventbrite page or our webpage: https://tinyurl.com/NENJ-Jul28
During the meeting, we hope you will join conversation to begin answering these questions:
Where are there opportunities to address gaps in flood risk reduction across the region?
What co-benefits, like air quality benefits or amenities, should we prioritize for potential projects?
What are the opportunities and constraints of potential strategies to address flooding?
We will begin the meeting with a short introduction about the project, but the majority of the meeting will be dedicated to group activities in breakout sessions. You'll have the opportunity to select the breakout session you would like to join when you submit your order form.
Please call 201-398-4333 or email resilientNENJ@dep.nj.gov with any questions, and be sure to check out our website at www.resilient.nj.gov/nenj to learn more about the project.