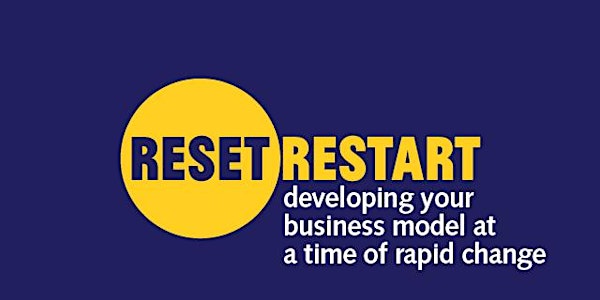 Reset. Restart: developing your business model at a time of rapid change
This webinar looks at how to review your business model to take into account major changes in customer needs
About this event
Despite restrictions lifting, we know this is still a difficult time for small businesses and business owners. Our dedicated programme, Reset. Restart, is back to continue to support you. All our webinars can be accessed for free and remotely, wherever you are. We're running these monthly so make sure you check back here to see the latest availability. You can book on to all of them or pick and choose from the list below.
We are living in a period of accelerated change and uncertainty. This webinar looks at how to review your business model to take into account major changes in customer needs, behaviours and perceptions as well as wider changes in the environment in which your business operates. It will focus on identifying and finding the information that will enable you to make the decisions to enable your business to change and develop successfully.
Reset. Restart is being delivered by the British Library's Business & IP Centre. We may share your data with your nearest regional Business & IP Centre, who may contact you to offer follow-up support as part of the programme.
Organizer of Reset. Restart: developing your business model at a time of rapid change
The Business & IP Centre was launched in 2006 with the aim to support businesses, entrepreneurs and inventors grow their organisations across a range of industries.
Providing small business advice, support and resources the Centre has been used by more than 500,000 individuals, a number that increases alongside our offering of business support.
The success is partly due to the free business resources available to anyone who wants to use our comprehensive collection of databases and publications, as well as a great number of workshops, advice sessions and other events.