Multiple Dates
Reserve Your Table + Add On Food/Beer for "dine-in" at Oaktoberfest 2021
Oaktoberfest in the Dimond is going pint sized for 2021. This year we will have a dine-out in a spacious venue with food, music, and BEER.
About this event
The 14th Annual Oaktoberfest in the Dimond presented by AT&T
Saturday, October 9th ~ 11AM - 7PM
Bavarian Beer Hall Edition
Please read the step-by-step to Reserve Your Table and then "Add On" your food and beverage items. There will be limited, reserved seating only tables available at the event, ALL seating is reservation only. Tables are sized for up to 5 and 8 people in 1hr 45min time blocks, and purchasers can reserve multiple time blocks if they desire to stay for longer. After you reserve your specific numbered table you can "Add On" food and beverages to be delivered to your table at the start of your seating time. Wine, a few different varieties, will be available to purchase by the glass or the bottle at the event.
** You can also reserve a table and purchase on-site from the German Sausage vendor, bring take out food from other Dimond District restaurants or elsewhere. NO OUTSIDE ALCOHOL MAY BE BROUGHT ONTO EVENT PREMISES
** Table reservations are NOT required to attend, there will be plenty of standing and dancing room, including bar tables for eating. But reserving a table, or making a donation, helps cover the expenses of producing this free community event.
To reserve a table and purchase food/drink/merch:
1. Look at the event layout map below and select your desired table/s by #
2. Click "Select a time" in the upper right of the screen
3. Choose the time you would like to reserve your table for and click "Tickets"
4. Select your desired table at that time and choose 1 ticket (1 ticket = full table reservation at that time). See 7. below for securing multiple blocks
5. Scroll down to "Add On" and pre-order food, beers, and any memorabilia to be delivered to your table during your reservation.
6. Click Checkout to finalize your purchase.
7. To secure a table for multiple time blocks (you know you want to hold it down all day) you have to start the order / reservation process again from the beginning for each 2 hour time block. We realize when you go to add another time block someone may have already reserved that table at that time, pick the next closest table and we will work our digital magic to avoid you having to physically relocate. Unless you're into musical tables then we'll ride with you.
We know Eventbrite sucks, but we're not a restaurant, don't own a $10K software package, we're doing our best to do something festive, so hope you will get multiple times, eat and drink, and enjoy the craft beer hall we will create for you, it will be a fun day, let's raise a glass together and enjoy the festivities!
Here's some event highlights if that help warm you up..
One time only, German inspired menu items - Grand Lake Kitchen will offer platters for delivery to your table - Pork Schnitzel, Bratwurst, Spatzle, Braised Red Cabbage (pre-order ONLY). A food truck will be on-site with German style sausages and sides including Apple Strudel. Pre-order or purchase on-site Dimond Slice Pizzas
BEERS! - Seasonal and Summer - Pre-order an ice cold bucket of beers in 10 or 24 to enjoy at your table - mixed packs from the best brewers in the Bay. Showcasing German styles for Altamont, Drake's, Laughing Monk, Federation, along with limited release Fall favorites from HenHouse, Ale Industries, South City Cider, and more! Beers will be available for purchase on the day of as well and you can order mixed packs for pick up to enjoy all season. Your purchases support Bay Area craft breweries. Beer Mixed Packs Available To-Go for Pick Up (October 9th 11AM until Sold Out) Seasonal craft beer mixed packs in 10 or 24 with unique craft and German styles from 14+ Bay Area breweries and be purchased in advance or at the event for you to take home and enjoy all season.
Deutscher Musikverein San Francisco German band (12Noon - 5PM) - Performing in the Bay Area since 1938 in the German "Blaskapelle" style. The repertoire includes traditional German music including polkas, waltzes, Schottisches and marches as well contemporary German party music. Audience participation in fun activities like the beer stein holding, dance demonstrations, and yodeling contests help make the performances an enjoyable activity for adults and kids alike. Follow DMV at sfgermanband.org
Shaded Outdoor Dining - Dimond's Bienati Lot is tree lined making it the perfect venue for a Bavarian Style Beer Hall experience
The event location (Bienati Lot) is located at the corner of Dimond Ave. and Bienati Way (3400 Dimond Ave, Oakland 94602) behind Peet's Coffee on Fruitvale. Free parking under Hwy 580 off Fruitvale. For more information visit Oaktoberfest.org
Raise a stein together, in the spirit of the season, this year and celebrate what really makes a community - our small businesses, the good people, great food, and of course craft beer! Prost!!
For more information & complete lineup, please visit: Oaktoberfest.org & Facebook.com/OaktoberfestStreetfest
Your Oaktober2021 hosts - Dimond Improvement Association and Dimond Business and Professionals Association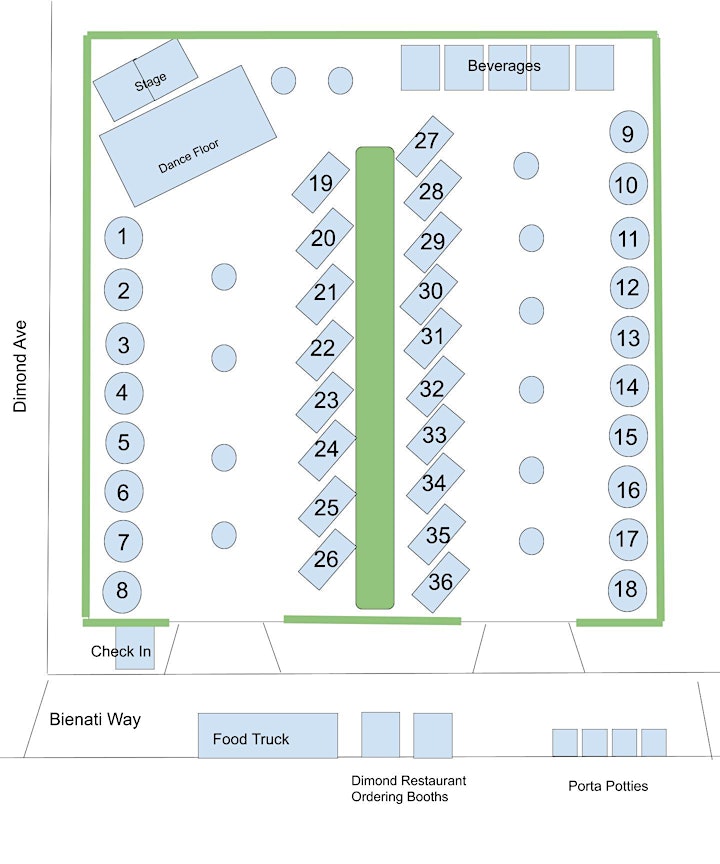 Organizer of Reserve Your Table + Add On Food/Beer for "dine-in" at Oaktoberfest 2021