Event Information
Location
Cube Cinema
Dove Street South
Avon
BS2 8JD
United Kingdom
Description
BUY TICKETS ON DOOR!
For one night only Algorave artists Coral Manton, Joanna Armitage and guests will take over the cinema and bar for an evening of live-coded music and visual performance. We'll be showcasing local artists' work.
Find out how to submit your work, and more about processings communitity day events in Bristol: artbristolcode.github.io/site.

Saturday 9 February
7.30pm | Ages 18+
~~~~~~~~~~~~~~~~~~
Cube Cinema,Dove
Street South,Kingsdown
Bristol BS2 8JD
~~~~~~~~~~~~~~~~~~
BUY TICKETS ON DOOR!
Tickets £5 on door /£4 concs

BUY TICKETS ON DOOR!
Algoraves - the combination of "algorithms" and "raves" - are electronic dance parties where the music and visuals are created by live coders, in real-time. All code is projected onto walls so you can see exactly what the performers are doing – challenging "black-boxing" in electronic music. The Algorave scene is fast-growing reaching over 50 cities internationally over six years. Algorave is diverse and champions female artists. Find out more about algoraves on Alex McLean's TEDx talk.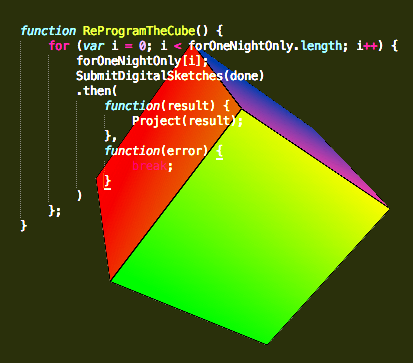 Cover image by Antonio Roberts

Event image by Rod Dickingson
Date and time
Location
Cube Cinema
Dove Street South
Avon
BS2 8JD
United Kingdom