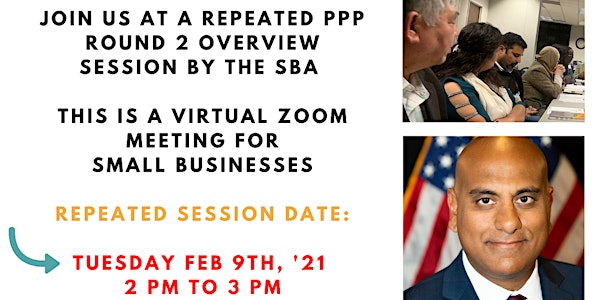 Repeated Session SBA Briefings on the Paycheck Protection Program Relaunch
Sales Have Ended
Registrations are closed
Thank you for your registration. If tickets sales end, please send a quick email to: aabac@aabac.org ( We might be able to refer you to other known service-event). THANK YOU, the Virginia Asian Chamber of Commerce Program Development Team.
To accommodate a great demand for PPP updates: This is a repeated session of the Feb 3rd event on SBA updates to the PPP Round 2 roll out
About this event
IMPORTANT EVENT NOTICE
Due to a great demand we are hosting a repeated identical session also led by the SBA Metro DC Headquarters Office to accommodate businesses ' needs for gaining access to the PPP 2nd Round.
Thank you for your interest and patience.
REGISTER TODAY as seats are again LIMITED.
https://sbapppround2session2.eventbrite.com
EVENT INVITATION
Virginia Asian Chamber of Commerce (VACC) Northern Virginia Office and other statewide VACC offices are working with key partners to provide solutions in support of small businesses like yours in gaining quicker access to the capital when you need the most.
NEW SESSION: SBA Paycheck Protection Program (PPP) Relaunch Overview
Join us for the Program Overview Briefings by the SBA. This is a virtual funding Zoom meetup meeting for small businesses. All are welcomed.
NEW SESSION DATE:
TUESDAY FEBRUARY 9, 2021
From 2 pm to 3 pm
BACKGROUND
BACKGROUND
Small businesses have been hardest hit to date by the pandemic. These small businesses have experienced revenue declines of more than 25%, and 37% are not operating at full capacity, with an average of almost 10% being closed, according to a recent national survey by the Public Private Strategies.
After a long waiting period U.S small businesses are finally getting more capital access relief from the federal government. The Small Business Administration has renewed access to new funds in the round 2 of the Paycheck Protection Program (PPP) through certain financial institutions.
Join a coalition of key partners of Virginia Asian Chamber of Commerce NOVA and statewide offices in support of small businesses for a free virtual business meetup meeting to learn more about the improvements from the last round of PPP, small businesses' ability to obtain a second PPP loan, and additional debt relief resources for small businesses.
The process can be intimidating, particularly for business owners that are trying to survive one day at a time. Questions business owners want answered about PPP right now might be:
Are there any PPP and EIDL Loan changes under the new Act? If I am a hotel or restaurant do I automatically qualify for 3.5x payroll? Can I use PPP Round 2 funding to pay for rent, utilities, and other expenses? What do I need to know about new regulations? How do I measure a 25% decrease in revenue or gross receipts? How do I qualify for a PPP Second Draw Loan? Do I need to apply for PPP loan forgiveness before taking a second PPP loan? If my firm did take the max 2.5x payroll in the first round, am I still eligible for PPP 2nd round?
TOPICS
• Learn about key updates to the Paycheck Protection Program (PPP), derived from the latest stimulus legislation
• Come to know how these new PPP updates could potentially help your business
• Understand the overall framework for SBA assistance programs in helping your business through the pandemic and in the new economy.
JOIN US
Get speakers bios, agenda, & Register at:
https://sbapppround2session2.eventbrite.com
SPEAKER
Nirav "Nick" Rajpara
Economic Development Specialist Washington Metropolitan Area District Office (WMADO) - U.S. Small Business Administration
AGENDA
Portion 1: 2 pm to 2:05 pm: Greetings and Remarks
Portion 2: 2:05 pm to 2:45 pm : Program Briefings
Portion 3: 2:45 pm to 3: 00pm: Q/A
3:00 pm: Program ends.
Questions and Sponsorship Opportunities:
Please contact VACC at:
E: aabac@aabac.org T: 804 502 8081.
MEET OUR SPEAKER
Nirav "Nick" Rajpara is an Economic Development Specialist at the U.S. Small Business Administration (SBA), Washington D.C. Area Metro Office (WMADO).
In this role, he collaborates with local SBA Resource Partners, (public and private) economic development organizations, and other stakeholders to develop, bolster and support informational initiatives which aid and assist small business and entrepreneurs across the capital region.
Nick is also the Program Manager for SBA's Emerging Leaders Program, a CEO academy which guides small business leaders on scaling and growing their business.
Nick also conducts HUBZone site inspections for certified HUBZone firms in the Washington, DC metropolitan area.
Nick holds a Masters Degree in Business Administration, and a Masters Degree in Public Policy from Pepperdine University. He has a Bachelor of Science degree from the University of California, Riverside.
Moderator
Ms. My Lan Tran, Executive Director, Virginia Asian Chamber of Commerce
Become a Program Sponsor 
Contact us at: aabac@aabac.org to inquire details.
THANK YOU TO OUR COALITION OF PROGRAM PARTNERS IN SUPPORT OF SMALL BUSINESSES