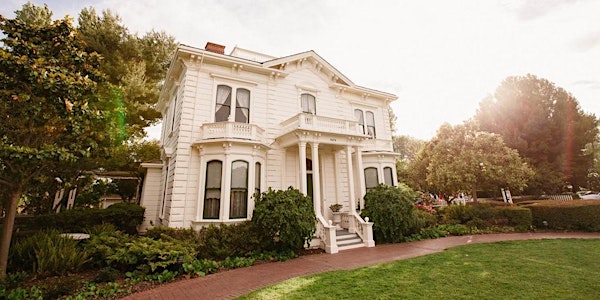 Rengstorff House Returns: Peek Inside!
Rengstorff House Returns: Drop-in Tours
When and where
Date and time
Saturday, September 18, 2021 · 12:30 - 3pm PDT
Location
Rengstorff House 3070 N. Shoreline Boulevard Mountain View, CA 94043
About this event
The Rengstorff House been closed to the public since the beginning of the pandemic. As part of the thirtieth anniversary year of the restoration of this fine home, we welcome members of the public back to the house for a peek at what you all have been missing!
On September 18, tours will be on a first-come, first served basis, although we welcome you to sign up in advance to give us a better understanding of the number of guests to expect. Tours are scheduled to occur approximately every 20 minutes. Look for a sign in the window indicating the next time of the tour. Tours depart the brick patio outside the home.
Per current health orders, masks are currently required for vaccinated/unvaccinated individuals when entering the home. As new protocol for tours, a guest check-in sheet will be monitored upon arrival. Kindly wait in the garden until it is time for the next tour. For additional information or to get involved as a volunteer, we ask that you visit www.mountainview.gov/rengstorffhouse and/or www.friendsofrhouse.org. Join us in celebrating 30 years since the Rengstorff House restoration in 1991!
This is the third in a series of four (4) educational tours at the Rengstorff House in the month of September. Other tours include: an architectural tour on September 4, a garden tour on September 11 and a day of family fun in the gardens on September 25. Beginning in October, the Rengstorff House expects to fully-reopen to the public on Tuesdays/Wednesdays 1:00 - 4:00 p.m. and Saturdays 9:00 a.m. - Noon.
About the organizer
The Rengstorff House is one of the oldest homes in Mountian View and one of the finest examples of Victorian Italianate architecture on the West Coast.  Also an attractive, historic rental venue, the Rengstorff House offers highly-competitive rental rates at $200/hour on weekends, and includes use of the downstairs portion of the house as well as spacious brick patios surrounded my manicured lawns, blooming flowers and natural areas.  The house is open to the public for docent-led tours Tuesdays, Wednesdays and Sundays from 11:00 a.m. to 5:00 p.m.  For additional information, please call (650) 903-6392.