Remembering Pope St. John Paul II - Author's Evening with Monika Jablonska
Description
Join us for a special evening of remembering Pope St. John Paul II on the 13

th

anniversary of his passing. Author Monika Jablonska will discuss her recent book:

Wind from Heaven. John Paul II: The Poet Who Became the Pope

which focuses on the Pope as an artist and literary figure. Rev. Msgr. Tomasz Grysa, First Counsellor at the Permanent Observer Mission of the Holy See to the United Nations and Rev. Marian Wojciechowski, OP will deliver their remarks. The event will also feature a mini piano recital by Joel Espinoza and JPII poetry reading by Yasmin Schancer. Wine reception to follow. Space is limited. Registration required.



---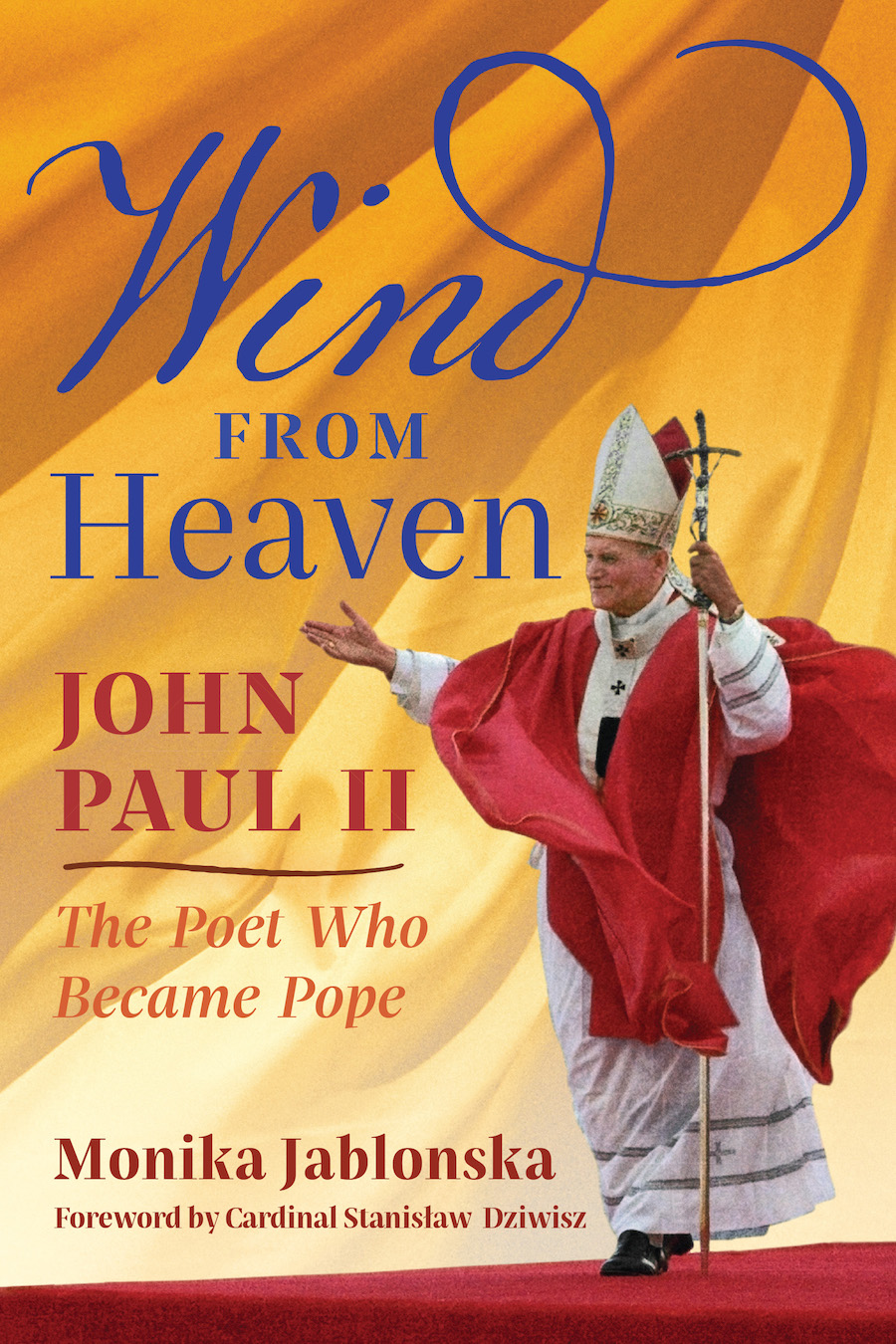 "Monika Jablonska's Wind from Heaven. John Paul II: The Writer Who Became The Pope is a story of the future Pope Karol Wojtyla as a poet and playwright. The book portrays the Pope as a student of Polish literature, playwright, actor, professor, philosopher, priest, and thinker, but also as a leader whose religious conviction added a new and much-needed moral dimension to world politics and changed the course of history.
This book also presents the story of Ronald Reagan and John Paul II and their shared contribution to the fall of Communism. It elucidates the drama of Wojtyla's own life, the personal and historical experiences that formed him and the faith and cultural heritage of his native Poland that influenced him and shaped his transformative 27-year pontificate. John Paul II: The Writer who became the Pope takes the reader on a journey of discovery through Karol Wojtyla's most important poems and plays; his career as an actor, seeking eternal truth on stage, in the nexus between word and gesture; his witness to the unspeakable horrors of Nazism and Communism, and the calling to resist their evil at all cost.
Wind from Heaven. John Paul II: The Writer Who Became the Pope offers a new perspective on John Paul the Great and the pontificate that transformed the Church, its people, and the whole world. It meticulously portrays the forge in which the history of Karol Wojtyla's native Poland, its literature, and faith-suffused culture made a young boy, then a man of unbreakable spirit, who answered the call to priesthood – and became the Pope who feared no one but God and spoke with Love, Hope, and moral clarity that gave the world courage to stand up to any evil."
Foreword Stanislaw Cardinal Dziwisz, the longtime secretary and personal assistant to John Paul II.
---
MONIKA JABLONSKA is an entrepreneur, lawyer, consultant, and business executive. She is currently working on her Ph.D. dissertation on social business. At the United Nations Conference on Sustainable Development in Rio de Janeiro in 2012, Monika launched her own social business called Nurture the World to feed hungry children around the world. She runs projects in the USA, Brazil, and Europe. In 2015 she received a Special Recognition Award from the American Institute of Polish Culture in Miami for her Nurture the World project. Monika was also nominated for Businesswoman of the Year in 2016.
Wind from Heaven has previously been published in Poland, Brazil, and Colombia.
---
Born in San Salvador, El Salvador JOEL ESPINOZA studied piano with maestro Giovanni Ardon at Centro Nacional de Artes (National Center of the Arts) for 3 years. Joel has performed in many different venues for example; CENAR, Canal 10 TV, Auditorium of Museo David J. Guzman, Centro Cultural Salvadoreño Americano (El Salvadorian American Cultural Center), Gran Sala del Teatro Nacional in San Salvador, El Salvador and Universidad Nacional de Costa Rica (National University of Costa Rica). Joel has also performed at the American School in El Salvador, American Embassy of San Salvador, Hunter College. His most recent performances have been at The New Steinway Hall in New York City and Weill Recital Hall at Carnegie Hall in New York, USA. At the present time he studies under famous concert pianist, Professor Jerzy Stryjniak, who is the founder of The New York Conservatory of Music.
---