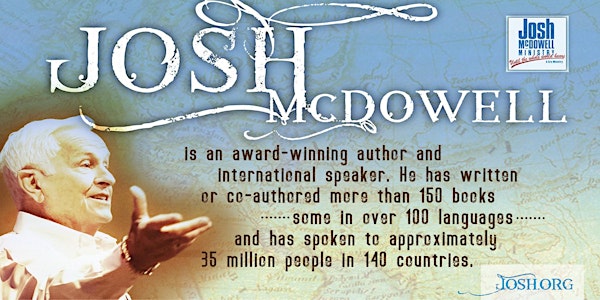 Relationships that Transform with Josh McDowell
In Relationships that Transform, Josh unveils the need to develop authentic relationships with children and grand children.
When and where
Location
Ventura Jubilee Fellowship 2226 Goodyear Avenue #A Ventura, CA 93003
About this event
Relationships That Transform
One of the most important factors to a child's success in life is actively involved parents who have relational connections with their children. Kids need and desire that kind of relationship. Citing current research on the family, biblical wisdom and real-life examples, Josh unveils the need for parents to develop authentic relationships with their children and demonstrates the importance of showing unfailing love and truth to them.
The 7As: Seven Principles for Building Loving Relationships
Rules without relationships lead to rebellion. Truth without relationships leads to rejection. Discipline without relationship leads to anger. Relationships form the very foundation on which we pass our faith to the next generation. Josh shares 7 practical principles essential for developing healthy and long-lasting relationships with your kids.