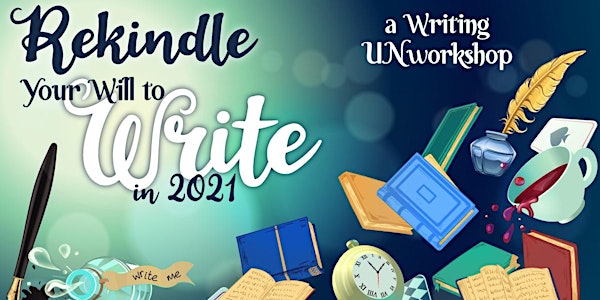 Rekindle Your Will To Write - May 2021 Edition | A Writing Unworkshop
Looking to get your writing mojo back?
Refund Policy
Refunds up to 7 days before event
About this event
If you fell off the writing wagon or constantly feel blocked due to stress, uncertainty, or just not wanting to due to *gestures* All This and want to try to get back to writing again, this unworkshop is for you. Play a writing game with authors Alethea Kontis and K. Tempest Bradford to spark your imagination and get words on paper again without pressure.
We'll be playing Sugar, Porridge, Spoons, a game for writers designed to push past your internal editor and get you putting (sometimes weird) words on the page without the pressure of trying to produce something specific.
We'll meet on Zoom for live virtual game sessions on:
Saturday May 1 | 5PM - 7PM eastern
Sunday May 2 | 4PM - 6PM eastern
Wednesday May 5 | 4PM - 6PM eastern
Saturday May 8 | 5PM - 7PM eastern
Sunday May 9 | 4PM - 6PM eastern
Click here to convert to your time zone
All sessions are optional. If you can make some but not others, that's fine. Participants will have access to videos of each session afterward.
You'll also be invited to a private Discord server where you can discuss the outcome of each game session.
This unworkshop costs $40 and is open to writers ages 14 to 114 years old. There are scholarships available.
Scholarships
There are 7 scholarships available to writers who cannot afford the registration fee for class. Three are specifically for Black, Indigenous, and other Writers of Color, two are specifically for transgender and non-binary writers, two are available to any writer from any identity background..
To apply, fill out this form. You'll be asked to provide a personal statement (up to 500 words) and a statement of financial need (300 words). Please Note: I define financial need broadly, from those who absolutely can't pay to those who may have the money but can't set it aside for a writing course. Don't self reject!
Application Deadline: 12PM Pacific April 30, 2021.
FAQ
What are the technical requirements?
A computer or mobile device that can run Zoom (info). You don't need a webcam to participate, just the ability to hear us and a mic. Joining the community on Discord is optional and requires a computer or mobile device.
What is Discord?
A group chat service that you can access on your computer, tablet, or smartphone. Within the course Discord there are multiple channels/chat rooms where students can share their writing if they want, discuss challenges and epiphanies. Learn more.
Organizer Bio: Alethea Kontis
New York Times bestselling author Alethea Kontis is a princess, storm chaser, and Saturday Songwriter. Author of over 20 books and 40 short stories, Alethea is the recipient of the Jane Yolen Mid-List Author Grant, the Scribe Award, the Garden State Teen Book Award, and two-time winner of the Gelett Burgess Children's Book Award. She has been twice nominated for both the Andre Norton Nebula and the Dragon Award. She was an active contributor to The Fireside Sessions, a benefit EP created by Snow Patrol and her fellow Saturday Songwriters during lockdown 2020.
Alethea also narrates stories for multiple award-winning online magazines, contributes regular YA book reviews to NPR, and hosts Princess Alethea's Traveling Sideshow every year at Dragon Con. Born in Vermont, she currently resides on the Space Coast of Florida with her teddy bear, Charlie. Find out more about Princess Alethea and her wonderful world at aletheakontis.com
About the organizer
Tempest is a speculative fiction writer by night, a media critic and writing instructor by day, and a podcaster in the interstices. Her short fiction has appeared in several anthologies and magazines, including In the Shadow of the Towers, Clockwork Cairo, Diverse Energies, Federations, Strange Horizons, Electric Velocipede, EscapePod, Podcastle, and many more.
She lectures, teaches classes, and leads workshops on writing short fiction and writing inclusive fiction with diverse characters at conferences and via online learning platforms. She currently organizes classes for WritingTheOther.com and has taught or presented at the Writing Excuses Conference, Sirens Studio, LitReactor, and The Brainery.
Tempest's articles, media criticism, and reviews can be found on NPR, LitReactor, the SFWA blog, io9, and various other media outlets. Her essays have appeared in Chicks Dig Time Lords and Luminescent Threads: Connections to Octavia E. Butler among other collections. When not writing, she hosts and contributes to multiple podcasts, including ORIGINality on RelayFM, the JEMcast, and The Write Gear on Hologram Radio.