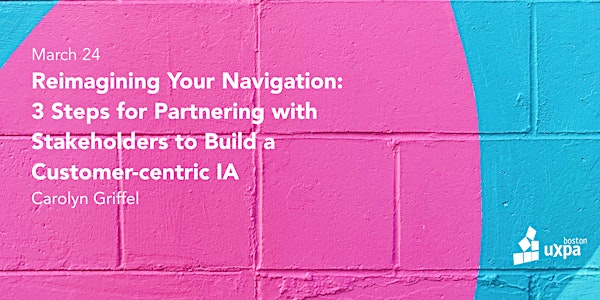 Reimagining your navigation: 3 steps to build a customer-centric IA
Join us for UXPA Boston's March Meeting and learn about Carolyn's 3 steps for partnering with stakeholders to build a customer-centric IA
Refund Policy
Contact the organizer to request a refund.
Eventbrite's fee is nonrefundable.
About this event
Information architecture (IA) is the unsung hero of any website or application. A great IA can make navigating so easy and intuitive that customers don't even realize they're clicking around. However, a broken IA can quickly derail customers, causing task failure and eroding brand trust.
So where do you begin when you need to reimagine your navigation? And what do you do with all the differing opinions from product teams and stakeholders who think their area of the product is the most important?
After repeatedly being faced with the same problem, I've identified a simple, 3-step process to transform any information architecture with all product teams and stakeholders aligned:
Step 1: In-depth task analysis
Step 2: A cross-functional IA workshop
Step 3: Tree testing
This process will help you partner more effectively with product teams and stakeholders, turning their opinions into data that can be used to reimagine the IA and build a customer-centric solution. In this talk, we'll dive into each stage of the process to teach you how to:
Harness product team and stakeholder expertise
Prioritize tasks to create the optimal navigation solution for the customer
Drive cross-team innovation and ideation
Advance the solution while still ensuring stakeholders feel in control and heard
Carolyn Griffel is a Senior Product Designer at HubSpot. She has over 12 years experience as both a consultant and in-house user experience (UX) designer leading teams in pioneering interdisciplinary work across a variety of industries and companies including LG, GM, Medtronic, Akamai Technologies and Toast.
Carolyn has been transforming IAs since her consultancy days, when, working with hospitals and universities, she'd always be asked to solve the same problem - users couldn't find the pages they needed and engagement rates were poor. Thus, the repeatable, 3-step IA process was born.
How to attend remotely
Anybody registered for the event will receive an email with a link with details on how to join the online meeting. Only individuals registered for the event will be able to join the meeting. You are highly encouraged to register with the email associated with your Eventbrite account; doing so will make your access to the event link easier. When the presenter begins, the meeting will be locked to any new attendees to prevent disruption.
All attendees are encouraged to remain on "mute" during the event, except when called on to ask a question or during open discussion/networking time.
Code of Conduct
By registering and attending any UXPA Boston event, you agree to follow our Code of Conduct. If you have any questions, please contact a Board Member.