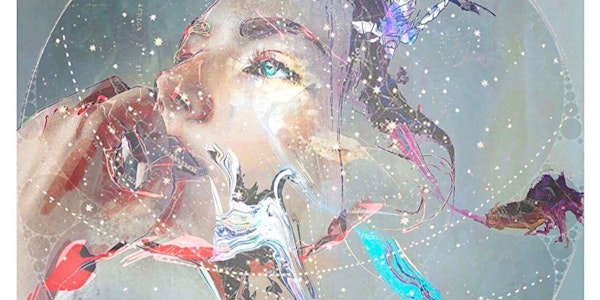 Re/IMAGINE: Holiday Benefit for No Kid Hungry
Location
The William Vale
111 North 12th Street
Brooklyn, NY 11249
Refund policy
Refunds up to 1 day before event
Description
On Thursday, December 14 we re/IMAGINE.
We are taking over the William Vale ballroom to celebrate the human race at our best. A collection of minds are coming together to share a vision of the future while giving back this holiday season. Peace Accelerators, we are SUPERNATURAL, and Future Clear are joining forces to transform the Ballroom at The William Vale into an exploration of our high potential. The evening will consist of an immersive forum for radical inspiration and community activation and even possibly... romantic connection.
All ticket profits will be donated to No Kid Hungry, a national nonprofit that is working to end child hunger in America. Find more info at www.nokidhungry.org
As we curate an experience that reflects on the previous year, honors the present and sets our highest intentions for times ahead, we are excited to push forward the boundaries of event culture.
Join us, & let's RE/IMAGINE our joint future together.
To make this event non-exclusive and accessible to all, we've opened up tickets to a "pay what you can" basis. Spots must be reserved by making a payment through the Eventbrite link.
Thank you to those who signed up to volunteer your time and energy in exchange for a ticket. All the slots are now filled.
www.peaceaccelerators.com
www.futureclearproductions.com
- ICAN (International Campaign to Abolish Nuclear Weapons, Nobel Peace Prize Winner of 2017)
- Rafael Espinal (NYC Council Member)
- Mo Gawdat (Chief Business Officer for Google X and the author of the book Solve for Happy)
- Jason Silva (Emmy-nominated and world renown TV personality, storyteller, filmmaker and futurist)
- Hawk Newsome (President of Black Lives Matter of Greater NY)
- Emilie McGlone (Director of Peace Boat, Founder of Parties4Peace) + Allison Pytlak (Reaching Critical Will/Women's International League for Peace and Freedom)
- Jessica O. Matthews (Uncharted Power)
- Katya Lee (https://katyalee.com)
- Pendulum People (https://www.pendulumpeople.com)
- Darius Christian (https://www.dariuschristian.com)
- Andrei Matorin (http://andreimatorin.com)
- Adam Maalouf (http://www.adammaalouf.com)
- Treya Lam (https://www.pendulumpeople.com)
- Michael Hewitt (https://michaelhewett.bandcamp.com)
- Hila The Killa (http://www.hilaperry.com)
- Sir Kn8 (https://sirkn8theknightofthenew.bandcamp.com)
- Frank Malloy IV (http://www.harambeedancecompany.com/about.html)
https://soundcloud.com/soulclap
- Victorien Mulliez (FDVM):
https://soundcloud.com/fdvm
- Myk Tummelo (2Melo, Founder of Junxion):
https://soundcloud.com/2melo
- Omar Aena (Founder of Ecstatic Dance NYC):
https://soundcloud.com/omar-aena
- Carla Fraymen (Bespoke, Love Medicine):
https://soundcloud.com/carla-frayman
- Future Clear Productions
- Aria McManus and Raine Trainor
Take part in a speed barter workshop led by Ashley Brooke Taylor where you will be matched based upon the goods and services people are offering and needing. You will fill out a simple card with your skills and your desires, and then you will see if your card is a match to someone else's in the group. This workshop is part of ongoing research and testing for a cooperative digital platform of the barter-backed economy.
- ICAN (International Campaign to Abolish Nuclear Weapons)
- Cities Rise (Global Development Incubator)
- SEAingBreath: https://seaingbreath.com