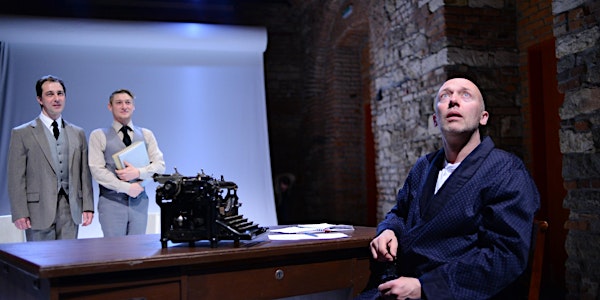 REHEARSAL FOR TRUTH: PROTEST / DEBT (FREE)
When and where
Location
Bohemian National Hall 321 East 73rd Street New York, NY 10021
Description
REHEARSAL FOR TRUTH: PROTEST / DEBT
Rehearsal for Truth is a Theater Festival in Honor of Vaclav Havel.
The 2018 REHEARSAL FOR TRUTH festival will present four performances in the original languages with English supertitles, followed by talk-backs with the artists and after parties hosted by the countries cultural institute and consulates general in NYC. There will also be one staged reading by an American Theater Company.

PROTEST / DEBT
Wednesday, September 26, 2018, 7:30 p.m.
Presented by: Svanda Theater, Prague, Czech Republic
Playwrights: Vaclav Havel and Marek Hejduk
PROTEST translated by Jan Novak DEBT: translated by Alex Zucker
Director: Daniel Hrbek
Cast: Robert Jaskow, Tomas Pavelka, Jacob Erftemeijer, Tomas Korenek
Supported by City of Prague, Ministry of Culture of the Czech Republic, Consulate General of the Czech Republic in New York, Czech Center New York and the Permanent Mission of the Czech Republic to the UN.
Thirty-three years separate two one-act plays that are connected by absurd humor and the characters of Vanek and Stanek. What happens when two writers meet—one who is not allowed to write and the other who writes whatever he wants? What if the first one has a surprising proposal for the second one? And what if the two of them meet years later when they can write freely but it is not working? Vaclav Havel's dialogue confronts the dramatic attempts of a debuting author. To sign or not to sign? To act or just to talk? Did the elites fail or did we? Protest? Debt!
Svanda Theatre is one of the oldest drama theatres in Prague. It´s focused on contemporary plays and also on the bold adaptation of classics. Besides its own repertoire Svanda Theatre also offers a wide range of supporting events such as concerts, talk shows, independent theatre group productions, stage readings and also the best of Czech regional theatre work. It was also awarded the prestigious Alfred Radok´ award for its dramaturgy.
"Anyone who loves intellectual theater based on dialogue that undergoes continuous absurd twists over and over, as if in a spiral, anyone who gives precedence to civil expression over theatricality, who considers it preferable to think about a performance rather than simply be entertained for a moment, should visit Švandovo divadlo for a performance of Protest/Rest. These two pieces by authors Václav Havel and Marek Hejduk, presented in the chamber environment of the Studio under the sensitive direction of Daniel Hrbek, represent intelligently entertaining theater in its purest form."
ČT24 – 27 April 2015 - Marie Třešňáková
The Vaclav Havel Library Foundation (VHLF), together with the Bohemian Benevolent and Literary Association (BBLA), will partner with Czech, Hungarian, Polish, and Slovak performing arts and cultural institutions to host the second year of a unique festival presenting the best in contemporary Central European theater. While paying homage to Vaclav Havel's legacy as a playwright, dissident, and political thinker, the selected performances will address current political and social trends in Central Europe and offer New York audiences a rare opportunity to experience the artistic and cultural atmosphere of the region.
The following productions at the festival are also available on Eventbrite. All (Rehearsal for Truth productions are free to the public):
The Hungarian company HoPPart will bring the alternative musical show SCALE 1:5 to the streets of New York by using a portable sound system and headphones to take the audience for a walk around Yorkville, the BNH neighborhood. The players will follow the traces of the Czech, German, and Hungarian communities that formerly inhabited this part of the Upper East Side.
In the Polish performance CEZARY GOES TO WAR/ CEZARY IDZIE NA WOJNE, four male performers and a woman pianist perform a music-dance-theater-performance-art deconstruction of patriotism and its values, the meaning of love for one's homeland, and, last but not least, the social, psychological, and cultural repercussions of war.
The Astorka Korzo'90 Theater from Bratislava, a company committed to pioneering dramaturgical and directorial works related to modern world classics, will perform PRED ODCHODOM NA ODPOCINOK / EVE OF RETIREMENT by Thomas Bernhard. One of the most important German-language authors of the postwar era, Bernhard pushes his contempt for Austria as a nest of unregenerate Nazis and anti-Semites to an outrageous extreme in the play.
Untitled Theater Company#61 (American) presents the staged reading of Night Before the Funeral - a new Czech play, originally produced in 2017 by the Svandovo Theatre in Prague under the direction of Daniel Hrbek. A death in the family brings everybody home, but a brief peace is broken by family squabbles, politics, and life crises. The mother's new Iranian boyfriend and a spectacular public breakdown just increase the tensions. An examination of life, in all its complexity, in the modern Czech Republic.
"What matters is not whether a play is light-hearted or serious, but––be it comedic or otherwise––whether it speaks to people about their problems, how it speaks to them, what impact it has on them. . . We wish only to put on plays that meet certain standards of urgency, that are intellectually penetrating, complex, challenging, and powerful."
--Vaclav Havel, "The Kind of Theater We Want to Do," from a letter to Alfred Radok, August 4, 1963