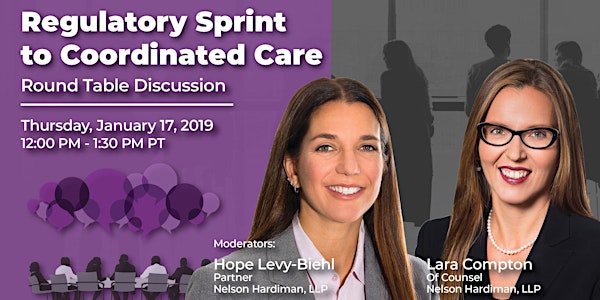 Regulatory Sprint to Coordinated Care - Round Table Discussion
When and where
Location
Nelson Hardiman 1100 Glendon Ave 15th Floor Los Angeles, CA 90024
Description
The Department of Health and Human Service's Office for Civil Rights (OCR) recently published a Request for Information (RFI) related to the Health Insurance Portability and Accountability Act of 1996 (HIPAA) as amended by the Health Information Technology for Economic and Clinical Health Act of 2009 (HITECH). Public comments on the RFI are due by February 11, 2019.
A full copy of the RFI may be downloaded from the Federal Register at:https://www.federalregister.gov/public-inspection/.
We are encouraged by OCR's willingness to consider the operational challenges encountered by the health care industry by the current regulatory regime and will be hosting a roundtable on Thursday, January 17, 2019 to discuss current challenges posed by the Privacy Rule and how to best respond to the RFI.
Lunch will be served.
Learn more about the OCR's Request for Information on Adapting HIPAA Privacy Rules at:
https://www.nelsonhardiman.com/ocrs-request-for-information-on-adapting-hipaa-privacy-rules/
Unable to join the discussion in-person?
Contact marketing@nelsonhardiman.com for call-in details.