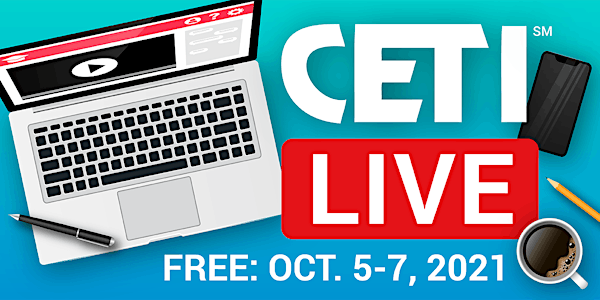 Register for Individual CETI 2021 FREE Sessions Below
Register for each individual session link you want to attend.
About this event
CETI 2021 — October 5-7, 2021!
You don't want to miss this year's Annual Live Online CETI — Continuing Education Training Institute, featuring the nation's top continuing education leaders. Attend as many sessions as you like — it's FREE!!!
AGENDA
Register for each individual session link you want to attend.
Tuesday, October 5
Wednesday, October 6
Thursday, October 7
BIG THANK YOU TO OUR SPONSORS!
It is our wonderful sponsors that have made it possible for you to attend CETI for FREE. Our sponsors could be just the fit your organization didn't realize it needed.
CETI ATTENDEES SAY...
"The conference was excellent. All of the speakers were articulate and spoke in the CE vernacular. Acronyms were kept to a minimum. The focus was on the 'client,' the 'business' and 'ROI.' Thank you very much."
"Great conference and I always look forward to attending. It's so nice to hear from leading industries and work with colleagues with the same vision and goals. I always leave refreshed and renewed!"
"Excellent session. I really enjoyed meeting and learning from so many professionals."
WHY ATTEND CETI 2021?
TRAINING EXPERIENCE: Be prepared for a training experience – not just a lecture. CETI brings together national leaders in continuing education with business experts to explore workforce trends that impact your students and your programs. This high-powered training conference offers specialized training to enhance educational needs. Sessions offer real-time applications from education and business leaders representing leadership from community colleges, state colleges, adult education, universities, and national training partners.
TOP TRENDS: Come to CETI and find out the top trends and techniques for programming, marketing, and training operations. Learn by attending our strategy sessions and leadership panels. CETI is a front-runner in working within Continuing Education and Professional Development communities in the continuous evolution to meet the educational needs of our country. What you will experience are all new sessions on the cutting edge of our field.
WHERE BUSINESS AND EDUCATION MEET: Connect with vendors for new ideas to implement and serve your students and network with other colleagues in continuing education. Sponsors have the opportunity to share their expertise and services with continuing education decision-makers including deans, directors, and department heads. These are professionals who are looking to improve their programs' efficiencies and capabilities.
PROVEN EXPERIENCE: Since its inception, CETI has grown in order to meet the needs of continuing education and cultivate an understanding of industry trends, credentials, and stackable skills. Each year, CETI welcomes continuing education professionals, representing colleges, universities, adult education programs, and professional development organizations.
A BENEFIT TO ALL
Leaders in Continuing Education & CE Department Staff: Receive the latest information on trends and techniques to make informed decisions and plan future directions in order to grow more robust programs that will increase student population, revenues, and successes. Pick up on industry best practices with small group sessions to educate, engage with one another, and go back to your respective schools and enroll more students!
Business Leaders: Connect with schools nationwide in one location. Speak to vendors and showcase your business to implement new technologies and make connections. CETI offers one-on-one networking opportunities with continuing education decision-makers interested in improving their methods and programs.