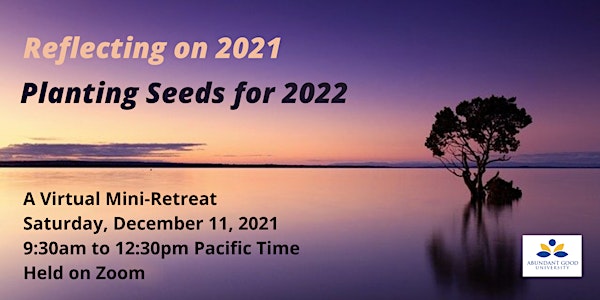 Reflecting on 2021, Planting Seeds for 2022: A Virtual Mini-Retreat
As we say goodbye to 2021 and say hello to 2022, what lessons are you taking forward and what new seeds are you wanting to plant?
Refund Policy
Contact the organizer to request a refund.
About this event
2022 is almost upon us!
As we say goodbye to 2021, it's helpful to have the tools and guidance to reflect on this past year so you can decide on what seeds you'd like to plant for your best 2022.
In this virtual mini-retreat, you will have the opportunity to:
Reflect on 2021 and all that unfolded in this past year
Gather lessons and insights for what you'd like to leave behind and what you'd like to carry forward
Bring greater intention for what you'd like to experience in 2022 through the intuitive spiritual practice of Creative Visioning.
If you are feeling the need for clarity, direction, guidance and grounding, and being with others in sacred spiritual community, I invite you to sign up for this virtual mini-retreat today.
This mini-retreat is presented by spiritual life coach Dr. Joselito Laudencia (www.abundantgood.com).
--
WHEN: Saturday, December 11, 2021, 9:30 am to 12:30pm Pacific Time
WHERE: This event will be held on Zoom.
WHAT TO BRING: A journal or notebook, comfortable clothes, and an open heart.
COST: The general admission price for this virtual mini-retreat is $97. The registration is non-refundable, but you can transfer it to another person if you cannot attend.
--
TESTIMONIALS from past virtual retreat participants
"The retreat re-ignited my passion for creativity. I had been feeling stuck...adrift...lacking intention. Joselito's guided session, his unique approach to visioning and tuning into the "broadcast" of possibility, as well as the special souls drawn to these sessions, all combine to pivot your perspective and open your heart to what is possible." - Les
"Joselito has a unique ability to bring a sense of calm to a a busy world. This retreat gave me space to think and feel, and about I really wanted for my future and move me into inspired action. Whenever I have the opportunity to experience the Joselito magic, I say yes." - Shawn
"I was looking to find a source of calm within myself. It turns out that the reflective exercises and journaling I did during the retreat provided the calm I needed." - Christine
--
FREQUENTLY ASKED QUESTIONS
Q: What do you do in a virtual mini-retreat?
A: This mini-retreat is a sacred time for you to be still, to tune into the highest calling of your heart.
As with other in-person retreats, you'll get to experience activities for self-reflection, spaciousness, and deep grounding.
You'll experience guided meditation, journaling, and the spiritual practice of Visioning, an intuitive process for you to "listen" to your heart for guidance and clarity.
You'll also get to be in the company of like-hearted individuals, who want to be in connection with others.
 Retreats are usually designed as a day-long, a weekend or even a whole week. This is called a mini-retreat because it's crafted for a 3 hour time span.
Especially for people who lead busy lives, this is an opportunity to take a small chunk of the day dedicated just for you.
Q: Will we be spending the entire time in front of a video camera on zoom?
A: Not at all! This virtual mini-retreat will be held via zoom, but you won't be required to sit in front of your camera the whole time.
You'll be led in some activities as a group, and others to go off in the comfort of wherever you are to contemplate.
You'll also get breaks.
 This is meant to be a spacious time for you, to unwind, relax, and reconnect to your inner being.
Q: How is this mini-retreat different from regular classes and workshops?
A: The intention behind regular classes and workshops is to teach you information, that you would then be encouraged to apply in your own life and to take action.
This mini-retreat is designed to give you space for reflection and contemplation in a done-for-you environment, meaning you don't have to think up of different activities or questions to ponder. I'll be leading you, and all you need to do is simply show up, and be willing to rest, reflect and re-imagine.
Q: What do I need to bring to this virtual mini-retreat?
A: Bring a notebook for some writing that you'll do, as well as to capture any insights that come up.
Have a beverage handy, whether that's water, tea, coffee, or something else you enjoy.
Also, bring a spirit of renewal and reflection, and open yourself to this time just for you.
Q: What kind of environment do I need to be in? Does it need to be quiet?
A: If possible, make sure you're in a quiet and serene space. We want as much as possible to create a sense of a "retreat-like" atmosphere.
Wear comfortable clothes.
Since we'll be on zoom, see if you can have access to as good a wifi or cellular service as you are able.