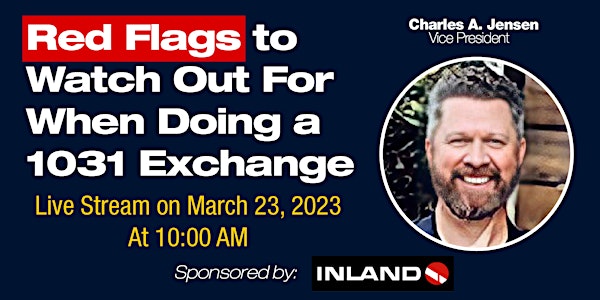 Red Flags to Watch Out For When Doing a 1031 Exchange
Charles A. Jensen | Western Divisional Director & Senior Vice President
By Apartment Owners Association
Date and time
Starts on Thursday, March 23 · 10am PDT
About this event
In this AOA Live Stream, you will discover:
When is 3.5% better than 5% in a 1031 DST
The basics of exchanging into a DST
How to find high-quality properties
The importance of diversification
Charles A. Jensen, Western Divisional Director & Senior Vice President of Inland Securities Corporation, is responsible for developing sales, new broker-dealer relationships, and managing sales team members in the Western United States. He began his career at Inland in 2008 as an Assistant Vice President and was promoted to Vice President in 2009. Prior to joining Inland, Charles held a number of senior sales and marketing roles at major investment firms. Mr. Jensen graduated from Arizona State University with a Bachelor of Science degree. He holds Series 6, 7, 63, and 65 securities licenses with the Financial Industry Regulatory Authority (FINRA). Charles' significant contribution at Inland in DST sales has helped it to become one of the nation's leading DST investment sponsors.
Inland Private Capital Corporation (IPC) is recognized as the industry leader in securitized 1031 exchange transactions.1 A subsidiary of Inland Real Estate Investment Corporation (Inland Investments) and a part of The Inland Real Estate Group of Companies, Inc. (Inland).
Inland has been delivering value to investors for more than 50 years. Established in 1968 by four Chicago Public School teachers, Inland is involved in every aspect of commercial real estate. Inland's four founding principals – Dan Goodwin, Bob Baum, Joe Cosenza, and Bob Parks – began investing in real estate part-time to earn extra cash while working full-time as school teachers. In the early 1970s, the group took a leap of faith and started full-time careers in real estate. Their first investors were other teachers, family members, and friends. This personal connection and responsibility to investors created a culture of putting investors first, which endures today across Inland's business entities.
Contact Info:
Inland Securities
(602) 403-5535
cjensen@inland-securities.com
About the organizer
Founded in 1982 by Daniel C. Faller, AOA has become one of the largest apartment associations in the United States, thanks to you, our loyal members.
Don't forget to click on FOLLOW to get alerts of newly scheduled seminars!