About this Event
BURLESQUE + DRAG + KINK + CIRCUS + TATTOO AUCTION
Red Canary SCREAMS is a fundraiser for Red Canary Song and a historic grand gathering of the Asian American underground. Queer, burlesque, drag, fetish, tattoo, and circus communities UNITE for an extravaganza of Asian American entertainment and eroticism!
A BENEFIT FOR:
Proceeds go to Red Canary Song, a grassroots organization led primarily by Asian American Sex Workers and Allies, who advocate and gather resources for Asian Migrant Massage Parlor Workers based in Flushing, Queens. More: redcanarysong.org
TICKETS:
PLEASE NOTE:
No one turned away for lack of funds, please email: kinkoutevents@gmail.com
Door tickets depend on capacity and are available at Security's discretion
STAGE:
Host:
Burlesque:
Circus:
DJs:
Drag:
Go Go HUNKS:
Guest Speakers:
DUNGEON:
Dominants:
Dungeon Monitor & submissive:
Boot Blacks:
LIVE KINK-THEMED EMBROIDERY:
AUCTION:
Tattoos:
Sexuality Coaching:
Photo Shoots:
Artwork:
Other:
RAFFLE QUEEN/KITTEN/PUPPY:
COMMUNITY ORGS:
ORGANIZERS: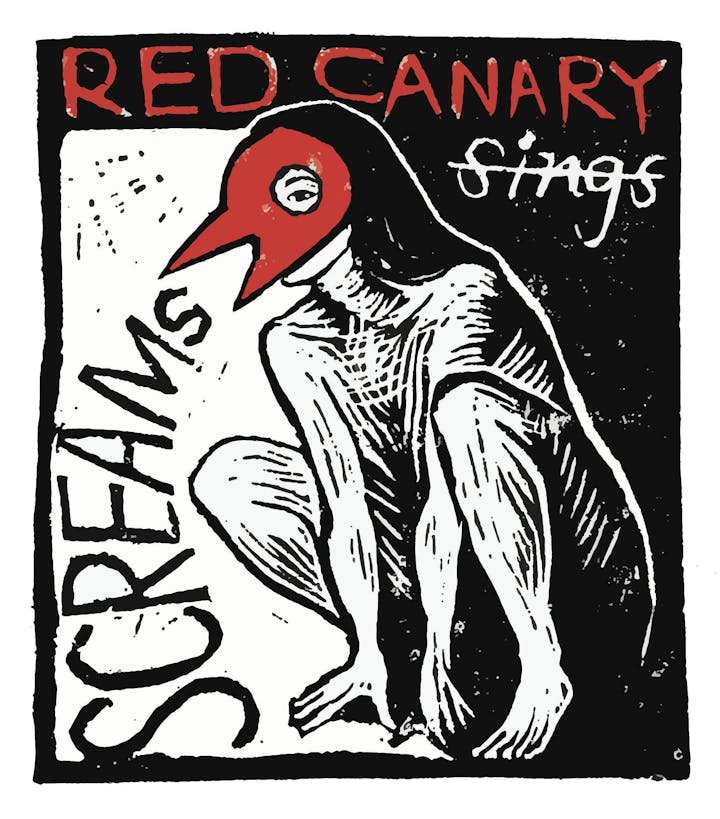 COMMUNITY AGREEMENTS:
This is a space that celebrates Enthusiastic Consent!
This is a space where no assumptions are made about identity or pronouns.
This is a space that uplifts marginalized identities and communities.
Persons visibly and/or disruptively intoxicated will be asked to leave.
Persons who breach these Community Agreements or our PHOTOGRAPHY & VIDEO POLICY will be asked to leave.
If there is a conflict or if you are feeling violated or triggered, please see a Safety Monitor, who will all be wearing red bandanas.
By purchasing tickets you agree to these Community Agreements.
PHOTOGRAPHY POLICY:
NO OUTSIDE PHOTOGRAPHY: No guests nor outside press are permitted to take photos or to record video in the primary event space (e.g. usually the room where BDSM activities are taking place aka the room where we need to uphold the safety of the BDSM practitioners in our community). Do NOT bring professional recording devices/cameras to Kink Out events.
CONTENT CREW: Our Content Crew will document the event for our own social media and promotional channels, for signal boosts by media outlets, and other post-event promotions. Content Crew members are identifiable by wearing a specific item, which is communicated to all guests prior to the event.
PHOTO BOOTH: There will be a photo booth in the front room where all guests are permitted to take photos with their own phones and cameras (e.g. for SELFIES, personal photos, and video interviews).
OPT OUT OF PHOTOS: If you DO NOT want your photo taken by the official Content Crew, nor to be seen in any publicly released video content, please obtain a green glow stick from a Door Manager and wear it in an obvious place on your body or clothing to indicate your personal photo and video restrictions.
ZERO TOLERANCE:
NO PROFESSIONAL RECORDING DEVICES TO BE CARRIED NOR USED BY EVENT GUESTS: IF YOU BRING A PROFESSIONAL RECORDING DEVICE TO A KINK OUT EVENT, IT MUST BE LEFT AT THE COAT CHECK (TIP YOUR COAT CHECK STAFF)
NO PERSONAL CAMERAS TO BE USED IN THE PRIMARY EVENT SPACE: IF YOU ARE REPORTED TO BE TAKING PHOTOS OR VIDEO IN THE PRIMARY EVENT SPACE, YOU WILL BE REMOVED FROM THE EVENT
DO NOT TAKE PHOTOS OR RECORD VIDEO OF ANYONE WEARING A GREEN GLOW STICK: IF YOU ARE REPORTED TO BE TAKING PHOTOS OR VIDEO OF ANYONE WEARING A GREEN GLOW STICK, YOU WILL BE REMOVED FROM THE EVENT
ABOUT RED CANARY SONG:
Red Canary Song is a grassroots organization led primarily by Asian American Sex Workers and Allies, who advocate and gather resources for Asian Migrant Massage Parlor Workers based in Flushing, Queens, NY. Follow: @redcanarysong
ABOUT KINK OUT EVENTS:
Kink Out Events bring people of intersectional identities together to share space, art, work, and ideas. A collaborative undertaking by Sex Work/Anti-Violence Activists, Kink Out Events are for BDSM community members to out ourselves to one another and build alliances. They are also a space to experience kink play safely. Kink-curious allies are welcome. Follow: @kinkoutevents
ABOUT FOSTA/SESTA:
In April 2018, President Trump signed two bills, FOSTA and SESTA, into law. FOSTA/SESTA were created to fight online sex trafficking, but have also immediately compromised the livelihoods and safety of marginalized individuals in the sex trade. The online tools and platforms which consensual sex workers depended on to survive have been shut down one by one since the bill came into law. This forces individuals to work in unsafe conditions and has had a direct impact on the sex worker community. More info: survivorsagainstsesta.org