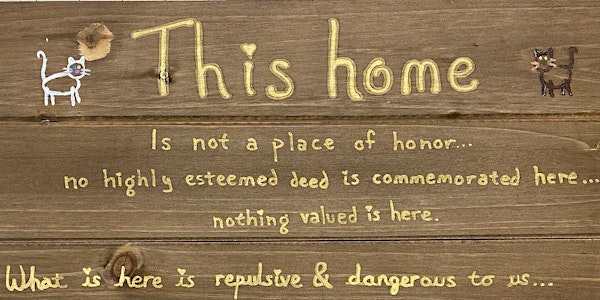 Recovery Con
Let's start thinking about how we can make the world better as we move from pandemic and quarantine into whatever comes next.
Refund Policy
Contact the organizer to request a refund.
Eventbrite's fee is nonrefundable.
About this event
What to expect
Three tracks along three different lines, plus extra time for open sessions.
Move from Zoom to Zoom as you would room to room at an in-person event.
All income from the event will be allocated to a cause chosen by attendees.
Sessions
Personal
Digital Resilience: How Can Mission-Driven Organizations Re-configure for a Digital-First Future
In this time, many organizations are finding that they were less equipped for a digital-first future than they imagined. While we are all getting used to Zoom, there are many other ways in which leaders and their organizations can shift gears to ensure they are still able to reach people with positive social impact. When you factor in mobile internet access, there is no digital divide and in fact, marginalized communities with access can be very powerful. Our team at Do Big Things is dedicated to helping the world's leading causes and campaigns drive the new narrative and new tech for the new era in which we all sense we're living. I'll have some great examples from groups with whom we've worked over the years and in the now such as Paid Leave US, Earth Day, MomsRising, WalMart workers, Color of Change, Define American and more. While many feel withdrawn and deflated about current events, some of that energy will convert to anger with newly digital savvy employee-led and consumer-led online-driven movements expanding potentially in force and velocity. How are we preparing for a world where borders collapse and people begin to join forces (with or without organizations) across time zones for social change? My session will explore this question and more...
Putting your own mask on
Before optimizing for anything (or anyone) else, you need to optimize for your own needs first. You can try to create a home office while your bedroom is a dumpster fire, but it won't go smoothly. There are spaces in your home that support your executive function. Once those are dealt with, other things start to develop easier. Learn how this is the foundation for healthy habits when things are up in the air, and how it still holds true outside of times of crisis.
Political
reclaiming streets post covid-19
people are staying at home, so they're traveling less. some places have seen up to 80% reduction in car traffic. and yet, people still need fresh air and ways of getting around on foot or by bike while maintaining social distancing. activists for alternative transportation as well as government agencies are jumping on this unprecedented reduction in vehicle travel to prototype temporary installations or street repurposing, both to respond quickly to new transportation needs during the quarantine, and to try things that would have been politically difficult to implement pre-coronavirus. but how much of this will last and be permanent after the lockdown is over? here are my observations of what's happening in the US and around the world, from an urban designer who now works on a street design tool that many of these activists are using.
no title
I want to consider recovery narratives side by side with rehabilitation narratives; the former presumes the prior state was healthy (it wasn't) while the latter presumes the prior state was disordered (it may have been, but not in the way we've been told). And while we rush to consider people and societies "recovered" (when they aren't) people with criminal records or people still in prison are never allowed to truly be considered rehabilitated (even when they've grown and changed immensely). Finally this will open a conversation explicitly about abolitionist values and visions.
What will become of all the empty college campuses?
As I hear about colleges around the U.S already differing classes to next spring and speculations that 200 colleges might have to close indefinitely in the coming year and as a soon to be college grad myself, I have been reflecting a lot on my college experience and wondering if this is something that the next generations will even have access to. A thought keeps resonating in my head, what will become of all these empty college campuses? Will they be turned into nursing homes, museums, office buildings? Why not affordable housing, anarchist run colleges, free/co-creative education? I would like to open up this space for people to dream with me .
Global
Building the supply chain mesh network: Towards are most just and equitable means of production
The cascading systems failures of the global supply chain are baked in to the current paradigm. In this talk I will lay out some of the reasons the current supply chain paradigm will continue to have disastrous consequences for all of us, discuss what research is being done on alternate models, and describe the decentralized, supply chain mesh-net models being developed in the COVID crisis.
Looking Beyond the End of Capitalism From A Global Perspective
We now have a chance to think beyond the capitalism and start building a better world with this perspective. But I want to focus on why we have to think with a global perspective and why we need a global solidarity to achieve this.
Data for all
Imagine a world where all the data platforms and individuals produce can be used in ways that benefit us all, not just the few. Imagine that, in that world, we have privacy safeguards in place that allow us to do so safely, without unnecessarily risking people. Access and monetization to vast troves of data feeds much of the platform economy we have today, in which some few players have most of the power. Data is, of course, just information, but access to information makes for better decision-making and empowers those who have it, at the individual, community and government level. Thus, what if local transportation departments could use Uber and Google Maps data to know how traffic develops, how people commute, where better/new streets, bus routes or pedestrian space should be created? What if local stores and businesses knew a bit of what people are ordering on Amazon, so that they can, too, compete better in that market? What if we could do this while also limiting how law enforcement, immigration agencies, hiring committees or insurance companies can use our data to make decisions about us that may unfairly affect us? In this talk I want to explore this idea, and argue that it is not an impossible future. We need better data-laws and infrastructures to get there, but they are not beyond our reach. I want to discuss what is good about it, what might be dangerous about it, what we lack to get there and how we can start heading in that direction.
Open Sessions
We'll also have time to extend and deepen these discussions in open sessions, as well as hear about topics brought from attendees.