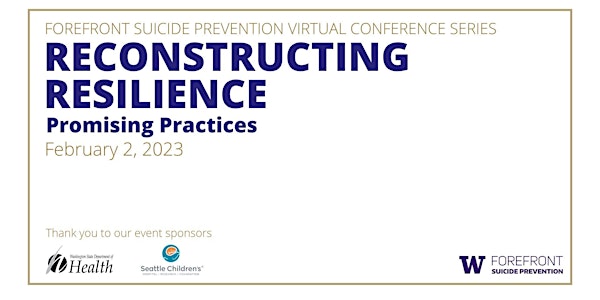 Reconstructing Resilience: Promising Practices
This Forefront Suicide Prevention Conference is a no-cost three-part virtual series throughout the 2022-23 school year.
About this event
As we enter the fourth school year impacted by the COVID pandemic, youth mental health is in crisis, and educators and other professionals who work with youth are stretched thin providing support.
But there is hope. Resilience is a known protective factor for suicide prevention and mental health.
RECONSTRUCTING RESILIENCE is a three-part virtual conference series taking place throughout the 2022-23 school year, focusing on practical ideas and tools adults can use to support young people in developing the skills and resilience they need to recover from both the COVID and mental health crises.
Promising Practices will gather researchers, educators, clinicians, public health professionals, leaders and people who work with youth to discuss techniques and interventions successfully being used to help build strength and resiliency.
Agenda
8:45 am Introductions
- Paul Dudley
- Larry E. Wright, Ph.D.
9:00 am Keynote - Kira Mauseth, Ph.D., Co- Lead at the Behavioral Health Strike Team, WADOH
Tips and Tools for Building Resilience in Yourself and Others: This 45-60 minute presentation is designed for parents, caregivers and educators about how to best support and encourage mental health for youth during the recovery from the pandemic. It covers issues related to common symptoms and experiences, communication tactics, school refusal and anxiety, and stress reduction techniques.
10:00 am BREAK (15 minutes)
10:15 am Overview of First Approach Skills Training (FAST) Program - Jennifer Blossom, PhD, University of Maine
FAST-A provides cutting-edge exposure-based treatment for anxiety in a brief, easy to use, workbook-guided format. FAST-A can be delivered in as few as four sessions, or in an open-ended way. The two-page educational caregiver handout can be given out by primary care or school-based providers as a first step in care. Some families may also benefit from using the FAST-A workbook independently when access to a counselor is limited.
This work is in conjunction with Partnership Access Line at Seattle Children's Hospital
11:45 am LUNCH
12:30 pm. SBIRT's Role in Supporting Youth Wellbeing
Maria Mullaney, Social Research Scientist, Assessment, Policy Development & Evaluation Unit (APDE), Public Health Seattle & King County (PHSKC)
Dr. Cari McCarty, Best Starts for Kids SB-SBIRT Program
Delaney Knottnerus, Best Starts for Kids SB-SBIRT Program
SBIRT is a comprehensive, integrated, public health approach to the delivery of early intervention and treatment services for persons with substance use disorders, as well as those who are at risk of developing these disorders.
Primary care centers, hospital emergency rooms, trauma centers, and other community settings provide opportunities for early intervention with at-risk substance users before more severe consequences occur.
2:00pm Wrap-Up
Will there be CEUs offered?
CEUs from the Washington Chapter, National Association of Social Workers (NASW), for Licensed Social Workers, Licensed Marriage & Family Therapists and Licensed Mental Health Counselors. Forefront's provider number is 1975-473. No fee for CEUs, thanks to Washington's Department of Health, sponsor of the event.
Who's welcome to attend?
Everyone. Educators, clinicians, health care providers, public health professionals, those who work or volunteer with youth, those with lived experience, anyone with an interest in suicide prevention.