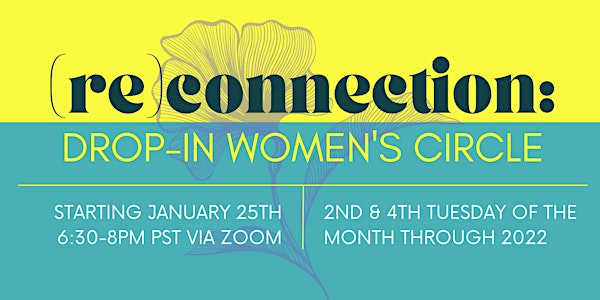 (Re)connection: Drop-in Women's Circle
In Women's Circle, we collectively explore topics related to our womanhood, mental health, or simply our human experience.
About this event
Through heartfelt expression and empathic listening, Circle offers an opportunity for introspection, to uncover unexpressed needs, and to heal in community.
(Re)connection: Drop-in Women's Circle
Beginning Tuesday, January 25th, 2022
6:30-8PM PST via Zoom
Meets the 2nd & 4th Tuesday of the month through 2022
Using an intimate open group format, this yearlong drop-in Women's Circle offers opportunities to practice vulnerability, give/receive support, and develop skills to nourish your healing journey throughout 2022.
This bi-monthly offering aims to create an intentional space for healing, fostering connection, and embracing vulnerability. At the start of each Circle, you will be invited to briefly check-in/set an intention and engage in a short grounding exercise before facilitated sharing in group.
Topics include coping skills, boundaries, forgiveness, managing anxiety/depression, goal setting, accountability, self-worth, etc.
$25 per group
2022 Meeting dates
January 25
February 8 & 22
March 8 & 22
April 12 & 26
May 10 & 24
June 14 & 28
July 12 & 26
August 9 & 23
September 13 & 27
October 11 & 25
November 8 & 22
December 13 & 27
For other offerings check out our website Nourish Healing Holistic Mental Health or follow us on Instagram.
Questions? Email: hello@nourishhealing.com
Please note: Participation in Women's Circle does not constitute a therapeutic relationship and is not meant to treat/diagnose or be used in lieu of medical/clinical care.