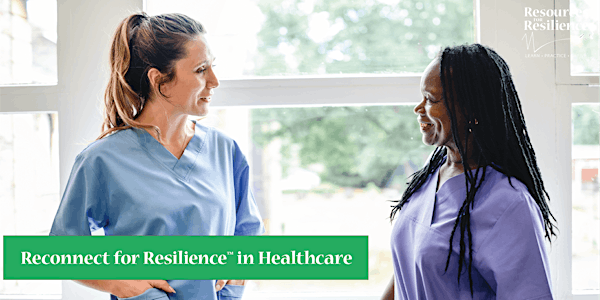 Reconnect for Resilience™ in Healthcare: Virtual Summer Series (NC Only)
Join us each Thursday in June for our LIVE virtual modules, as we work to support resilience in ourselves, our coworkers, & our patients.
By Resources for Resilience™
Date and time
June 1 · 10am - June 29 · 1pm PDT
Agenda
Module 1: Harnessing the Science of Resilience
---
Explore the Survival, Emotional, and Thinking parts of the brain. Identify the amygdala's role in the perception of threat. Introduce the Resiliency Tools to help regulate a nervous system that is ou...

Module 2: Recognizing and Responding to Jolts in Healthcare
---
Explore the role of protective factors and the importance of co-regulation, self-regulation, and connection. Identify jolts, survival responses, and their impact on health. Introduce connection as bo...

Module 3: The Roadmap to Resetting Our Nervous System
---
Explore memories and their relationship with our threat response. Identify the significance of neuroplasticity in rewiring our brains towards positive experiences. Introduce a roadmap for utilizing t...

Module 4: The Iceberg of Trauma & Resilience in Our Bodies
---
Explore the effects of trauma including traumas of oppression, intergenerational trauma, Adverse Community Environments, and Adverse Childhood Experiences. Identify stories of resilience in communiti...

Module 5: Restoring Compassion after the Jolt of Shame
---
Explore how shame affects the nervous system and drives disconnection. Identify the role of compassion and empathy in settling the nervous system after a shame jolt. Introduce potential applications ...

About this event
What is Reconnect for Resilience™ in Healthcare?
Resources for Resilience™ is offering a series of live webinars for the people who care most about others: healthcare workers. These interactive training modules explore the biological effects of stress and trauma, while offering healthcare staff a set of practical tools to support resilience in themselves and their patients.
Each module covers foundational concepts that help you understand why we respond the way we do to stress and trauma. You will acquire new skills to help strengthen your resilience as you move through the challenges of serving in healthcare. At the core of each module is the belief that we all deserve to experience better days... and, together we can.
This series is grant funded and is restricted to healthcare professionals within North Carolina.
Days and Times
Modules will occur every Thursday in June. Modules 1- 4 are three hours each and Module 5 is two hours. Check out our schedule below:
Module 1: June 1st 1:00 - 4:00 p.m.
Module 2: June 8th 1:00 - 4:00 p.m.
Module 3: June 15th 1:00 - 4:00 p.m.
Module 4: June 22nd 1:00 - 4:00 p.m.
Module 5: June 29th 1:00 - 3:00 p.m.
 *Mandatory recap for participants who miss the last module (Module 1- 4), begins at 12:00 p.m. the day of the following session. Attendance is required to continue with the series. CEUs are not provided for recap sessions.
Completing the Series
The full series includes five virtual modules ranging from two to three hours, for a total of 14-hours. Modules build upon one another in content. Therefore it is essential that participants commit to attending each week. If a participant misses a module they must attend a 45-minute recap session before the start of the next module in order to continue with the series.
Continuing Education
The cost of attending this virtual training is covered through a grant from the North Carolina Department of Health and Human Services. However, if participants would like to request continuing education credits through our partnership with the Mountain Area Health Education Center (MAHEC), you must also register and pay directly with MAHEC.
Participants can request nursing credits (NCPD) for $100 for the series or general CEUs and contact hours for $50 for the series. More information about how to submit your continuing education request will be released shortly.
If you do not want credit, you do not need to register with MAHEC.
Special Thanks:
Resources for Resilience™ would like to thank the North Carolina Department of Health and Human Services and Eastpointe for their generous support of this series.
Frequently asked questions
Who is eligible for this training?
Is there a cost associated with this training?
How many hours is each module?