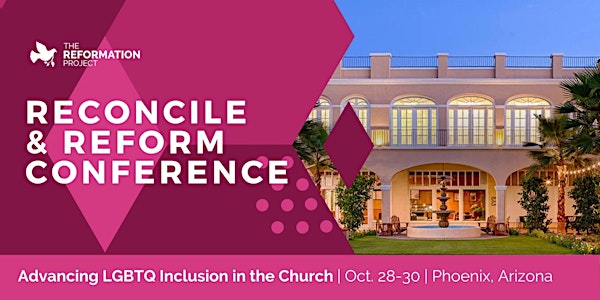 Reconcile and Reform: The Reformation Project's 2021 Conference in Phoenix
Location
Crowne Plaza Hotels & Resorts Phoenix-Chandler
One S San Marcos Pl
Chandler, AZ 85225
Join us for a weekend with Christians from around the country and the world who are seeking to advance LGBTQ inclusion in the church.
About this event
Are you a Christian who supports the LGBTQ community but who wishes that your church were as supportive as you are? Do you feel ill-equipped to have difficult conversations with Christian family and friends⁠ about their views on this topic? Is it time to talk to your pastor and church leaders about their views and their interpretation of Scripture when it comes to same-sex relationships and transgender people?
Join us for The Reformation Project's Reconcile and Reform Conference to help you become a more confident and effective advocate for LGBTQ inclusion in your church. Speaking up about LGBTQ inclusion can be daunting and isolating. Come learn more about Scripture and LGBTQ inclusion, meet other affirming Christians from around the country and the world, and hear from a diverse group of leading voices in this conversation at our conference!
The Reformation Project's commitment to LGBTQ inclusion in the church is grounded in our three core values:
Love for God
Love for the Bible
Love for the church
We aspire to help Christians and churches become affirming in a way that deepens their commitment to the authority of the Bible and to orthodox Christian theology. At Reconcile and Reform, you'll hear from affirming Christian leaders, Bible scholars and theologians, and other keynote speakers who will help equip and inspire you to advance LGBTQ inclusion in the church.
Everyone is welcome at Reconcile and Reform, both LGBTQ and straight Christians. Whether you are LGBTQ-affirming or not, if you are open to learning more, we would love to have you join us. The conference will be hosted at the Crowne Plaza Phoenix-Chandler Golf Resort in Arizona.
All ticket sales are non-refundable.
COVID Protocols:
We take public health seriously, and as a result, we ask that all Reconcile and Reform attendees do their part to reduce the risk of COVID-19 transmission at the conference. To that end, we will be requiring the following:
Attendees must provide proof either of vaccination against COVID-19 or of a negative COVID test within 72 hours of the conference.
Attendees must wear masks while indoors for conference sessions.
Fortunately, there is ample and beautiful outdoor space at the conference hotel, and the weather in Phoenix will be warm at the end of October. So there will still be many opportunities for socializing and connecting with others while outdoors.
Refunds for conference tickets are typically not available, but we will make an exception in the case of a positive COVID-19 test that prevents someone from attending the conference. (We may request to see documentation of a positive test prior to issuing a refund.) We will also continue to monitor public health guidelines throughout the fall and plan accordingly.