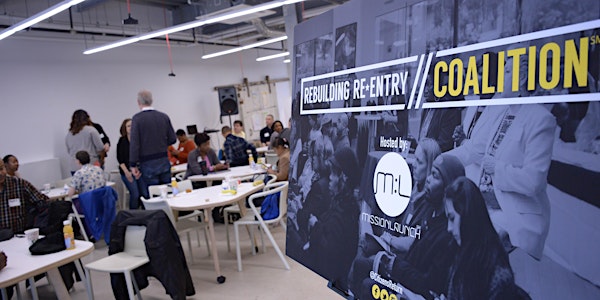 Rebuilding Reentry Baltimore Build Day
When and where
Location
Impact Hub Baltimore 10 East North Avenue Baltimore, MD 21218
Refund Policy
Contact the organizer to request a refund.
Description
Mission: Launch, in partnership with Impact Hub Baltimore, invites you to The Rebuilding Reentry Coalition Build day!
---


The Rebuilding Reentry Coalition - Mission: Launch's signature program - is a five year strategic effort to better coordinate organizations, people, activities, information and resources so that reentry is more effective and efficient in Baltimore.
Through this event, we focus on identifying areas where service providers would like to improve the process of supporting their clients and prototyping tech driven solutions to meet those needs. What makes our convenings special is that we structure our innovation and ensure those directly impacted by mass incarceration are critical partners in problem identification and solving. Beyond great ideas, we work with teams to continue to invest time and resources in their ideas - coming back to present their solutions for city-level implementation.
You are invited to join us in this work!
---
What is The Rebuilding Reentry Coalition?
The Rebuilding Reentry Coalition (RRC) is a collective network of governmental and non-governmental agencies, as well as grassroots, citizen-led movements. Each stakeholder represents 1-of-15 cross-sectors dedicated to a better coordination of services as well as closing communication gaps throughout the human/social services network. At each convening, we diligently ensure 100 of the most relevant stakeholders are in attendance. This allows us to protect the integrity of ideas shared, as well as gain long-term commitment to not only the innovation process but the implementation process as well.
What is Build Day?
Build day is based on the hackathon model, which is an important method of community and civic engagement, normally taking place over the course of 20+ hours. Technology is normally a strong component although solutions are not limited in scope to technology. Strategic partners and investors are in the audience ready to commit resources to scale from idea to prototype. A light breakfast, lunch and snacks are included in the price.
Why a Build Day?
We know how frustrating it can be for service providers, government agencies, individuals and communities when it is difficult to deliver and receive social services. We also know that a lack of coordinated service delivery results in wasted resources and lost opportunities, which can perpetuate cycles of systemic poverty, social discrimination, and increased rates of recidivism.
What is the purpose of this coalition and convening?
Our goal is to ensure women and men - throughout Baltimore - can better access the critical support they need when starting over and support those helping returning citizens in making referrals to other reentry service providers. Since 2014, we have successfully brought together hundreds of concerned citizens through our convenings in both D.C. and Baltimore, MD.
Who is Mission: Launch?
Mission: Launch is a 501 (c)(3) tax-exempt organization and is the founding and managing member of the Rebuilding Reentry Coalition. Our mission is to accelerate self-sufficiency and improve socio-economic outcomes through better coordination of service delivery for Americans with an arrest and/or conviction record.
Do I need to know about the topic to attend?
No. We will provide some general awareness/education information in the opening. If you are new to the topic, please come with an open-mind and a genuine desire to learn from others.
Why is this 100% focused on re-entry?
Mass incarceration, criminal justice reform, and what could happen if campaigns to "decarcerate America" are successful have become hot topics. We are grateful for this surge in interest, conversation, and true momentum.
If you are new to the topic, consider this:
1-in-4 Americans has an arrest or conviction record;

Adult Americans unable to vote (due to various felony voting law restrictions) total 5.85 million people;

70% of women and men released are unable to find employment upon release due in large part to social stigmatization and/or competitive hiring markets; and,

Over 700,000 women and men come home annually, with this number expected to increase. It is beneficial for all of us that returning citizens be given a fair chance at becoming self-sufficient, contributing members of society.
Should I know how to code (or even be good with computers) to attend?
Nope. Contributions (such as your lived experience and your outside opinion) are important to teams. That said, we LOVE coders. We find that both expert and newbies are helpful - all programming languages welcome. A familiarity with GitHub may prove useful but there will be folks on hand to help.
Can I financially sponsor this event?
Yes! Please contact our Executive Director, Laurin Hodge at Laurin@Mission-Launch.org for sponsorship details.
Can I volunteer?
Yep! We are always grateful for volunteers to assist in registration, setting out meals/snacks and helping with day of needs. To volunteer please email: Jessica@Mission-Launch.org.