Learn 3 Fail-Proof Steps To Uplevel in 2021. #InevitablizeYourSuccess
About this event
"Life isn't about waiting for the storm to pass...It's about learning to dance in the rain." —Anonymous
For most of us, 2020 has been a year of constant changes, confusion, and uncertainty. We've had to rapidly react on-the-fly; review our routines, perspectives, and priorities; as well as revise our goals, measurements of success, and even our sense of purpose and fulfillment.
Some moments, you just want 2020 to be "over and done with". Yet, as 2021 approaches with ambiguity and its own set of challenges, it can feel like we're (still) winging it as we go along. But it doesn't have to be this way.
With the right set of tools—mindset, skillset, and adaptive resilience—you can navigate the new reality with poise, position, and a deep-rooted sense of purpose. In fact, the emerging 2021 can be the perfect opportunity for you to level up and prosper.
Join us for this 2-hr immersive workshop, where you'll get a Powerful experience vs. just a PowerPoint lecture and learn evidence-based, crisis-proof, time-tested practices to:
Emerge stronger from 2020 as the year of transformation and growth
Fortify your mindset and skillset with insight, perception, and wisdom from the challenges, triumphs, and lessons in 2020 and #finishstrong
Get your mind and emotions to work with you—vs feeling like you're up against them #allthetime—and unfold 2021 in your favor
Create a system that helps you make aligned decisions quickly, take productive actions, and create the results you want #onthedaily
Stay energized with hope and focused on positive possibilities, even through ambiguity and uncertainties as we navigate the #newreality of 2021
New Year = Renewed Energies.
Take this time to set 2021 in the direction that inspires you to consistently show up as your best self and keep you motivated towards your goals, even through challenges and changes.
***At the end of the immersion, limited spots will be opened for you to work with us privately at a special rate in 2021. If this has been on your wish list for a while, let's make it happen!***
BACKED BY SCIENCE, CRAFTED WITH SOUL, ALWAYS #IRL
Every tool you learn in our classes is grounded in neuroscience, psychology, and research-based evidence. Every practice is designed to work with your modern mind, in your modern life.
You'll leave:
Energized with actionable insights on how to make your mind your #1 ally
Equipped with evidence-based tools to navigate challenges and opportunities
Leveled-up with useful micro-practices you can integrate and implement #IRL
THIS IS A BRAVE SPACE
This session is taught "live" in real-time. You'll get to ask questions via audio or chat on-the-spot, practice via video to get immediate feedback, or learn quietly incognito if that's how you roll 🤓
We will not be recording this webinar so that everyone can ask questions and share their experiences freely without hesitation.
GROW WITH US
Whether you're a first-timer curious about mindfulness-based emotional intelligence and leadership; or a seasoned practitioner looking for like-minded community to grow with; or simply someone who could use practical, accessible tools to level up your 2021—you're welcomed to join us!
GROW FOR GOOD
A portion of all proceeds will go toward providing meals for those in need, supporting mental wellbeing organizations, aiding marginalized communities, and more. Together, we can be more helpful to those who need our collective support. 
Past donations have been contributed to:
Lee Initiative's Restaurant Worker's Relief Program
Hunger: Not Impossible project
Groceries For Seniors & Families Of Seattle CID
Washington State Opportunity Scholarship
The Brother's Campaign by In-Sight Collaborative
Thank you for your contribution!
ALL ARE WELCOMED, PAY FROM YOUR HEART
We've set aside a number of sliding-scale tickets to include all. Make this investment in your own future with intention. Pay from your heart.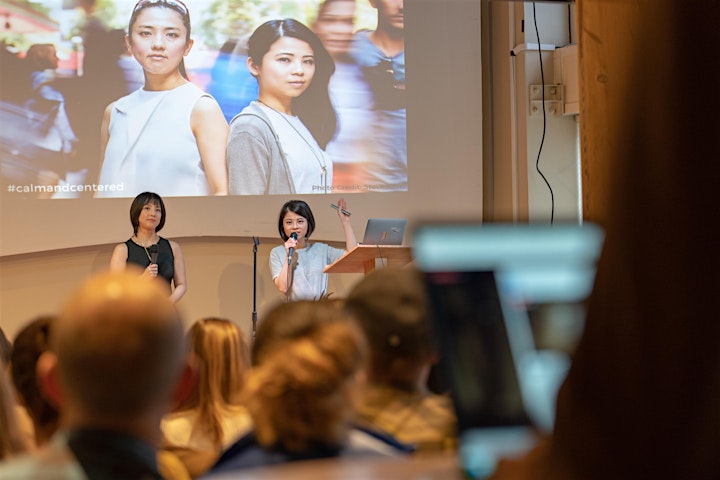 TAUGHT BY TAY & VAL
To date, more than 100,000 leaders across diverse communities and cultures have experienced M MEDITATION | TAY & VAL. We've become the go-to mindfulness leaders to help kickoff major conferences across North America.
TAY & VAL have clocked 12,000+ hours in their personal meditation practice, and are also certified teachers with the globally sought-after Search Inside Yourself Leadership Institute for mindfulness-based emotional intelligence and leadership training.
GOOD TO KNOW
Join the webinar workshop by:
Using your phone/tablet by downloading the Zoom app for free
Clicking on the link in your confirmation email and launch in any browser
Do so plenty of time before the session so you'll have time to troubleshoot in the event of tech issues
On the day of the session, click the zoom link in the invite 5 minutes before the official start of the session, we'll be there early to give newbies a quick zoom orientation—#supersimple!
Video is not required. Wear your sweats if you want!
You don't have to close your eyes or sit up straight. You don't have to dress a certain way. Simply show up on-time, put on your headset, get comfortable, and be ready to learn!
Do bring:
Your charged/wired headsets (you'll want to plug in for this one)
A journal or writing pad
Your favorite pen(s)
A bottle of water for hydration
Your favorite tea, coffee, matcha... you get it
A curious mind, an open heart, and an attitude of gratitude
This session will NOT be recorded.
This is so that everyone feels free to share and ask questions without hesitation. We will be sending out a PDF of the slides after the class so you can review them in your own time.
No refunds.
We get it. More than ever, life is filled with uncertainties. But once you take a spot, we ask that you honor it. Make wellness your priority and make the time and space for it.
Date and time
Location
Refund policy
Organizer of Ready, Set, Go 2021!
M exists to help you lead your best life. We are Seattle's premier modern meditation movement, here to bring meditation to the masses. Modern meditation—backed by science, crafted with soul, secularized to be accessible and approachable to modern people.

People with hectic schedules and demanding social lives. People who aren't necessarily master yogis or hippies or monks. People that are self-starters and makers, baristas and bloggers, musicians, artists, and OS engineers.

Modern, high-performing professionals like you and us.

Join us in a series of mindfulness x meditation events to debunk common myths and perceptions of how meditation should be, and explore how the modern narrative of meditation could be.

You don't have to already be meditating 20 mins twice a day. You don't have to wear stretchy pants and sit real straight. You don't even have to close your eyes.

Whether you're a first-timer curious about meditation, or a seasoned meditator looking to cultivate your practice—no matter what your previous meditation experience is—you're welcomed to sit with us!

BE THE FIRST TO KNOW 
Sign up here to get first dibs on updates, upcoming events, and awesome tips to M up your day!