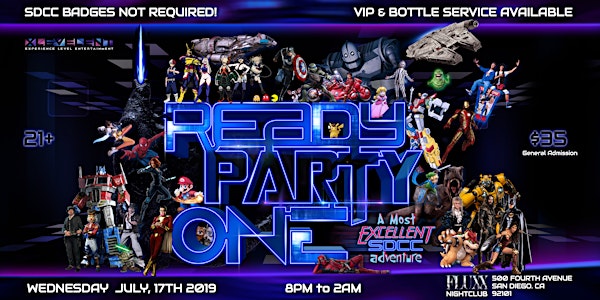 READY PARTY ONE: A most Excellent SDCC 2019 Experience!
When and where
Location
Fluxx Nightclub 500 4th Ave San Diego, Ca 92101
Refund Policy
Refunds up to 1 day before event
Description
Gregarious Simulations Systems and it's subsidiary Experience Level Entertainment cordially invite you to The Great And Powerful Og's party in The Oasis (also known as Fluxx Nightclub)! San Diego Comic Con is the mecca of nerd and pop-culture for a week's worth of incredible experiences and this will be the first party of a week that's sure to be XLEVELENT! The best part- there are no exclusive lists! That's right, forget those industry jams you can never get into, The Oasis is for EVERYONE! We'll have a great list with fun celebrity guests in the Rio Vista Universal VIP lounge ready to party with all of you, and a lineup of sick DJs and live entertainment featuring the official Back To The Future band The Flux Capacitors! VIP and GA tickets available, and booths/bottle service are available for anyone who wants to flaunt their player ranking levels. Experience Level Entertainment will create an immersive experience into The Oasis to accent this nostalgic journey through musical time and space. Check back in our Facebook event as we announce various guests, experiences, and instagram-ready moments!
For media inquiries please contact Chelsea Schwartz at media@iamhighvoltage.com

DRESS CODE: There totally isn't one, cause in The Oasis you can find, earn, or buy whatever skin you like so any of your favorite costumed characters are fine, even the base level skin w/ jeans and a t shirt! That said, we know SDCC brings out the best in everyone and we want to challenge you to design yourself as you'd want your avatar to look! Create your own stylized online avatar equipped with enchanted items, stylistic armor, sleek cutlines, flowing capes, enhanced goggles, crazy top hats, whatever you like! Let your inner creativity out and become a part of the fun! Get out of the stacks and into the action!

Word in the Oasis has it that mercenaries Prospero and Calypso will be skulking around the party. We understand that they've "acquired" some valuable items and plan on challenging other players for a chance to take some of them home. Join @theAdventureEffect for an immersive experience to win fun prizes throughout the evening, as well as some grand prizes at the end of the night! Follow their Instagram for details closer to the event!
VIP Spaces available, where you'll be joined by celebrity guests and get a chance to pick up our exclusive swag bag filled with fun artifacts!
VIP tables and bottle service now available! Reserve your table at "Aech's Basement" for only $150, or be one of the lucky ones with a table on the Distracted Globe dance floor in all of the action with the best views of the event for $225! Only 9 total tables available and you can let us know what bottle you'd like to start with and we'll have it waiting for you! Tables come with 1 VIP ticket, and you may escort anyone you like to your table as space allows (about 6-8 people) **Each table comes with a 1 bottle minimum, payable at the venue, with prices starting at $250/bottle**
GA Tickets $35
VIP Tickets $75
Details:

Fluxx Nightclub, San Diego Gaslamp Quarter, Wed July 18 8p-Midnight

21+
*FILMING NOTICE: The producers of the event and invited media will be filming the evening. By your presence in this event, you acknowledge that you have been informed that you may be photographed and recorded as part of the release in online video and/or any media now known or hereafter devised, in perpetuity throughout the universe and the advertising and publicity thereof. Further, by your presence here, you grant your permission for your likeness and voice to be included therein without compensation, credit or other consideration
**While you may have a ticket, should the venue hit capacity you may be made to wait. You are encouraged to arrive as early as you can in the evening and enjoy the long haul :)
***This is a fan event and not affiliated with Ready Player One nor the studio that produced it, we just wanna live in The Oasis.