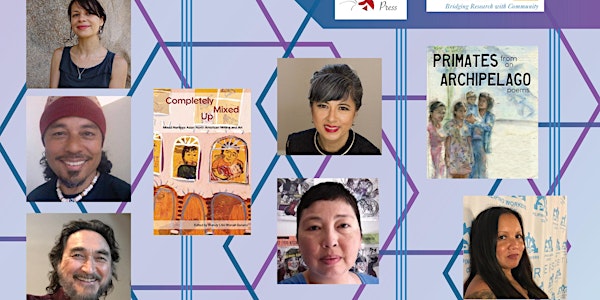 Reading with Rabbit Fool Press and UCLA AASC!
By UCLA Asian American Studies Center
Date and time
Friday, March 30, 2018 · 8 - 9pm PDT
Location
Neyborly Gallery 590 Sutter Street San Francisco, CA 94102
Description
Rabbit Fool Press is coming to San Francisco to feature some of its finest talent. Join Rabbit Fool Press and UCLA AASC on March 30th, 8:00 PM, at Neyborly Gallery in Union Square to hear the narrative intricacies from five of the Completely Mixed Up authors—Claire Light, Stephen Murphy-Shigematsu, Tony Robles, Julie Thi Underhill, Kieu-Linh Caroline Valverde—and author of Primates from an Archipelago, Irene Suico Soriano. This event is part of an evening co-sponsored with the UCLA Asian American Studies Center, which is holding a mixer for the Asian American Studies community and having a reunion for its alumni, of which Rabbit Fool Press owner Brandy Liên Worrall-Soriano is a part.
"The Completely Mixed Up anthology began as a project when I was a graduate student at the Center, and it was completed as this book with Rabbit Fool Press years later, so one could say this book is the love child of the Center and RFP. In fact the official birthday of the anthology is March 31, 2015, so we can celebrate its third birthday (one day early) at this amazing reading,"says Worrall-Soriano. Come blow out the candles with us in San Francisco on March 30th!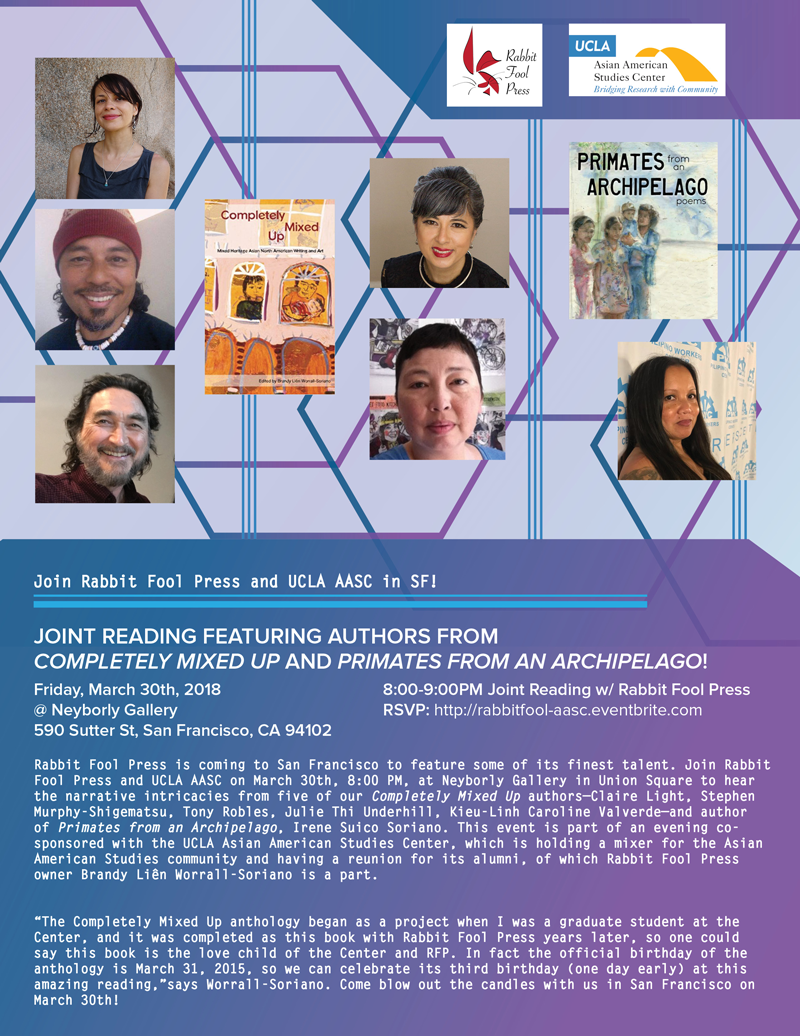 * * *
Claire Light is a Bay Area writer and cultural worker. She has worked since 1997 in nonprofit administration, particularly arts in the Asian American community. You can read her fiction in McSweeney's, Hyphen, FarThing, and The Encyclopedia Project, among others. A short collection of her stories, Slightly Behind and To The Left, was published by Aqueduct Press in 2009.
Stephen Murphy-Shigematsu is a psychologist in Wellness and Leadership at the Stanford School of Medicine, and author of When Half is Whole and From Mindfulness to Heartfulness.
Tony Robles is the author of two poetry and short Story collections: Fingerprints of a Hunger Strike and Cool Don't Live Here No More—A letter to San Francisco. He was awarded the SF Art Commission Literary grant in 2017 and was a shortlist finalist for Poet Laureate of San Francisco 2017.
Irene Suico Soriano is an immigrant Filipina American poet, independent literary curator, and the author of Primates from an Archipelago (Rabbit Fool Press, 2017). She founded and coordinated the Southern California reading series "Wrestling Tigers: Asian Pacific American Writers Speak" at the Japanese American National Museum in the mid-90's and was featured in the Los Angeles Times for her curatorial participation in the groundbreaking NEA funded "World Beyond Poetry Festival" that featured over 100+ poets from the diverse communities of Los Angeles. She participates in local and international anti-vivisection efforts and believes in the fundamental rights of non-human animals to live and be free from harm, pain, exploitation and captivity.
Julie Thi Underhill is an interdisciplinary artist, scholar, and activist based in Berkeley. Julie is a member of She Who Has No Master(s), a collective of Vietnamese women writers. She lectures in the Writing + Literature program at California College of the Arts. Her website is jthiunderhill.com.
Dr. Kieu-Linh Caroline Valverde is Associate Professor of Asian American Studies at the University of California, Davis. She recently finalized a forthcoming co-edited anthology, "Fight the Tower," revealing the ways Asian American women scholars are severely mistreated in the academy and their resistance to structural injustice. Her future research project involves looking at spirit realm beliefs and the history of its exclusion from the US academy, as well as the importance of its return.
CO-SPONSORS:
UCLA Asian American Studies Center
Rabbit Fool Press
KITAKITS - LA