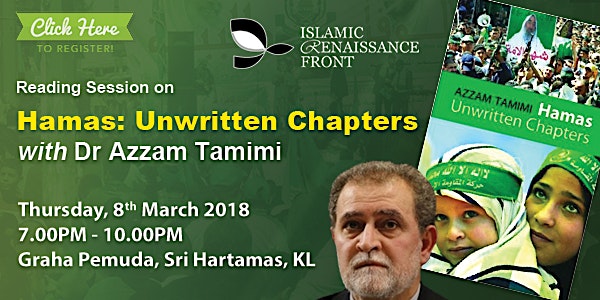 Reading Session on "Hamas: Unwritten Chapters" with Dr Azzam Tamimi
When and where
Location
Graha Pemuda Sri Hartamas, Sri Hartamas, Kuala Lumpur Malaysia
Description
Hamas: Unwritten Chapters
Dr Azzam Tamimi, a London-based activist, founder of the Institute of Islamic Political Thought and author of the book "Rachid Ghannouchi: A Democrat Within Islamism", says that this book "is an attempt to redress the imbalance in contemporary literature on Hamas. In the English-speaking world, the story this book seeks to tell has hitherto been little heard. It is the sincere hope of the author that the book will provide the public with a more accurate description of what Hamas is and what it stands for. Those in academia, the media or political authority who are interested in seeing an end to the conflict in the Middle East, or are working for this outcome, will hopefully find here a valuable contribution to this enterprise".
An accurate account of Hamas's origins is provided together with the analysis of the beliefs and values of Hamas that distinguishes between what is essential in its position and what is marginal, with an examination of how the thinking of its leaders and ideologues has evolved over the years. The difference between this book and most others written about Hamas is that it discusses Hamas in a global context rather than placing it exclusively within the context of Israel. Hamas is an organisation of Arabs and Muslims who happen to be Palestinian, and who perceive themselves as the immediate victims of a plot hatched by an unjust world order that saw fit to create a Jewish state in the very heart of the Arab and Muslim lands.
While attending primarily to local concerns, the activities of Hamas possess regional as well as global implications and consequences. The struggle against Israel is one of several elements that inform the thinking of the movement and instruct its activism but is by no means the only one. Hamas, which has its origins in Al-Ikhwan-Al-Muslimun or the Muslim Brotherhood, grew out of a social project motivated by philantropy and dedicated to charity. Best characterised by its adherents as a comprehensive reform movement, the Ikhwan was Egyptian in its origins but has since grown into a global network.
About the Author
Dr Azzam Tamimi is a British Palestinian academic and political activist. He currently is chairman and editor in chief of Ahiwar TV Channel. He is the director of Institute of Islamic Political Thought in London and appears regularly on al-Jazeera, Press TV and other Arabic and English language television stations, and frequently publishes opinion pieces in the Guardian. He is also a prominent member of the Muslim Association of Britain and the Stop the War Coalition. Dr Azam Tamimi has written several books on Middle Eastern and Islamic politics, including Rachid Ghannouchi: A Democrat within Islamism and Hamas: A History from Within. Dr. Azzam was born in 1955 and lived in Hebron in the Palestinian Territories until he was seven, when his family moved to Kuwait. His father had fought against Israel. After high school, Dr Azzam moved to London for college, receiving a B.S. in Combined Sciences in 1979 from the University of Sunderland. He received a Ph.D. in Political Theory from the University of Westminster, London in 1998.
Program
700-800PM: Dinner and Solat
800-805PM: Introduction by the Chairperson, Ehsan Shahwahid
805-815PM: Al-Qur'an recitation by Thufail Sayuti – At-Taubah: 38-42
815-900PM: Presentation by Dr Azzam Tamimi
900-1000PM: Discussion
Organized by: Islamic Renaissance Front