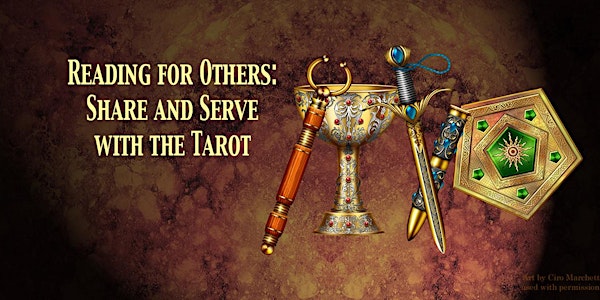 Reading for Others: How to Share and Serve with the Tarot
Reading the Tarot for others is not automatic, just because you can read for yourself. It's a nuanced skill that takes thought and practice.
Refund Policy
Refunds up to 7 days before event
About this event
Congratulations on your desire to help others with your Tarot skills!
Heaven knows there is a world of confusion and hurt that needs people like you who care, and who are willing to share their knowledge of the Tarot in order to help.
But how can you make sure you are doing this is in the very best way possible?
After all, don't people just practice for a while, and then dive in, reading for friends and family?
Well, that's the way a lot of people do it. But I have observed that, despite the best of intentions, this could be one reason why the Tarot has a tendency to get a sketchy reputation.
Because there are way too many people who think that just because they can read the LWB (Little White Booklet), or even if they know the cards pretty well, they can just start giving out consultations. Maybe even charge for it!
Yikes.
I created this course because I think that is a huge mistake.
Maybe a lot of people make that leap with the Tarot, without thinking much about it. But I have seen the damage done by careless, inept readers.
I'm not talking about the rip-off kind.
I'm talking about well-meaning, formerly solo readers who decide they want to read for family, friends, maybe even the public.
But really? They don't know how. And too often, they don't know they don't know!
They've never been shown, maybe never even thought about the special skills needed to be of service to others, reading the Tarot.
That's what I will show you in this very special afternoon that is reserved only for my prior introductory students.
If you want to share your Tarot readings with other people, this is how to create a lifetime-strong foundation.
Learn how to be a respected reader and a more skillful communicator, how to protect your (and their) boundaries, and avoid potentially harmful rookie mistakes.
We'll be focusing on the wise practice of Tarot with friends and family, as well as tips for making the transition to reading for paying clients.
I don't teach this class but every few years, and again - ONLY if you have completed my "Tarot Without Tears" course in the past. (Sorry, no exceptions).
Please join us for this very special Zoom event.