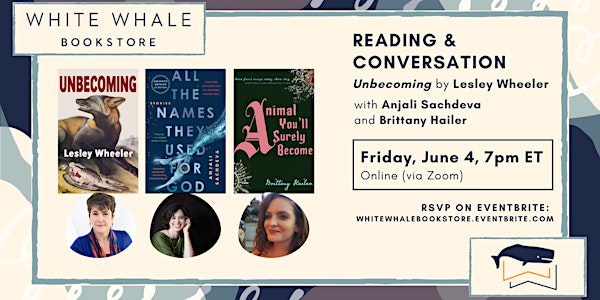 Reading & Conversation: "Unbecoming" by Lesley Wheeler w/ Sachdeva, Hailer
Join us for a reading and conversation with Lesley Wheeler, Anjali Sachdeva, and Brittany Hailer about realism and fabulism
Refund Policy
Contact the organizer to request a refund.
Eventbrite's fee is nonrefundable.
About this event
Looking forward to celebrating Lesley Wheeler's latest book, Unbecoming, with local writers Anjali Sachdeva (All the Names They Used for God) and Brittany Hailer (Animal You'll Surely Become)! Join us for a reading in addition to a discussion about the edge where realism and fabulism meet.
Check out our whole ready-to-ship website, which also has a wide selection of recommended and best-selling books, store merch, book subscription boxes, and more. You can request specific books you don't see on the site through this form, too. All orders ship from our store in Pittsburgh.
All of these writers' books are available on our Bookshop.org list for recent and upcoming events. Check out our curated lists and picks on our main Bookshop.org affiliate page, or use the search bar in the upper center-right to look for any book. (Using the book's ISBN usually works best.)
This event will be hosted on Zoom. You'll receive the link to the Zoom meeting the day of the event via email. Free registration/ticket sales will end at 6:30pm ET on 6/4. Please email events@whitewhalebookstore.com if you miss this cut-off and need a ticket. For questions, check out our FAQ for events here.
*
Praise for Unbecoming:
"The story of a woman leading an ordinary life who discovers within herself extraordinary powers, Unbecoming is sage, funny, and warm, like a long conversation with your best friend about all the strange and wonderful things that have been happening to her lately. Lesley Wheeler's writing is so deft and magical that I'm convinced that she must have learned it from the fairies. This smart, beguiling debut fantasy casts a spell that readers won't want to break." —Emily Croy Barker, author of The Thinking Woman's Guide to Real Magic
"Lesley Wheeler's Unbecoming is a delightful, beautifully written 21st century gothic novel set at a Virginia university and also in the borderlands between the literal and the metaphorical, between the realistic and the fantastic. Like all universities, this one is a school for wizards and conjurers. Professors offer portals to undiscovered countries and enchanted lands. Portals lead to demons and horror and death too. Cynthia has recently become English Department Chair. She's perimenopausal and coming into her blood-magic, witch woman power. The English Department is a tiny realm, fighting other more powerful realms at the University that would swallow any beleaguered humanities discipline. How do we survive each other, resist the demons or easy escape to a deadly realm that could destroy us? How do we conjure a path to the world we want? Lesley Wheeler says, ask the poets and the painters!" —Andrea Hairston, author of Will do Magic For Small Change & The Master of Poisons
"Unbecoming is framed largely as a satirical academic tale, but one leavened with more than a bit of witchery and magic, principally the notion, which begins to haunt the narrator, that certain women entering middle age somehow develop magical powers…there are occasional hilarious echoes of the sort of gonzo academic satire we used to see in the novels of David Lodge and others."—Gary K. Wolfe, Locus
*
About the readers:
Lesley Wheeler's debut novel is Unbecoming; a starred review from Publishers Weekly calls it "an excellent feminist fantasy." She is also the author of five poetry collections, most recently The State She's In from Tinderbox Editions. Poetry's Possible Worlds, an essay collection blending memoir and criticism, is forthcoming in November, 2021. Her poems and essays appear in Massachusetts Review, Strange Horizons, Poetry, Lady Churchill's Rosebud Wristlet, Kenyon Review, and other magazines. A recipient of grants from Fulbright and the National Endowment for the Humanities, Wheeler is Poetry Editor of Shenandoah and lives in Virginia.
Anjali Sachdeva's short story collection, All the Names They Used for God, was the winner of the 2019 Chautauqua Prize and was named a Best Book of 2018 by NPR, Refinery 29, and BookRiot. Her fiction has been published in McSweeney's, MIT Technology Review, Lightspeed, and The Best American Nonrequired Reading, among others, and featured on the LeVar Burton Reads podcast. She teaches at the University of Pittsburgh and in the low-residency MFA program at Randolph College.
Brittany Hailer is an award-winning journalist based in Pittsburgh. Her memoir and poetry collection Animal You'll Surely Become was published by Tolsun Books in 2018. Brittany has taught creative writing classes at the Allegheny County Jail and Sojourner House as part of Chatham's Words Without Walls program and now teaches creative writing and journalism at the University of Pittsburgh. She is the managing editor at Pittsburgh Current. Her work has appeared in NPR, Fairy Tale Review, Hobart, The Rumpus, and elsewhere.