Description
Dedicate 3 days to React.js and Redux. These 2 workshops will teach you how to utilize their power in your development tasks!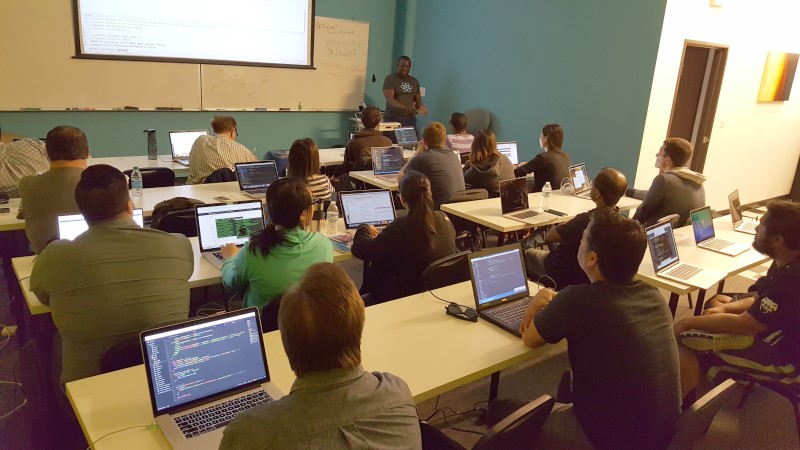 Intro to Application Development with React.js
March 17 & 18 | 9:00 a.m. - 4:30 p.m.
Price: $229.00 (Completed)


Learn Redux & Redux-Saga
March 24 | 9:00 a.m. - 4:30 p.m.
Price: $169.00
Redux is the favorite, predictable state container for React applications. What is Redux-Saga? It is middleware for Redux which isolates side-effect producing code. It makes things like data fetching and other asynchronous tasks easier to implement, more straightforward to test, and more resilient to failure.
Students will gain the ability to build production-quality React applications using Redux and Redux-Saga. You will learn how to architect your application and create practical unit tests.

What You Will Learn

Redux

Redux-Saga

Generators

Saga Helpers

Effects

Testing Sagas

Architecting React Apps


Prerequisites
You should already be comfortable with React and skilled at using advanced JavaScript constructs like destructuring, and the spread operator. If not, please take our Intro to Application Development with React.js first. This session will not review introductory React.
Instructor, Troy Miles
Troy Miles is a Senior Software Engineer and Lynda.com instructor. He is exceptionally skilled at full stack. He posses deep knowledge of the following frameworks: AngularJS, jQuery, jQuery Mobile, PhoneGap, Backbone, Ember, Jasmine, and Mocha.
===============================================


System Requirements & Development Environment
Participates should bring a laptop/notebook computer. Mac or PC with any modern web browser installed and working wireless capabilities.

Corporate Group Discount
We offer a 10% discount for groups of 5 or more developers from the same company. Contact us at training@codedistrict.io to take advantage of this offer.