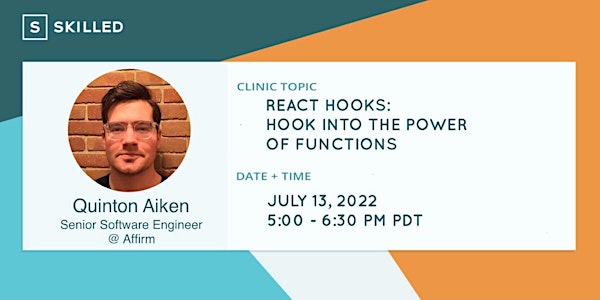 React Hooks: Hook Into the Power of Functions
Skilled Clinic in React Hooks led by Skilled mentor and Senior Software Engineer at Affirm, Quinton Aiken.
About this event
Have you ever found it hard to reuse stateful logic between React components? Do you work with complex components that have become hard to understand? Hooks let you ditch classes and use more of React's features by just embracing functions.
Join Skilled mentor and Senior Software Engineer Quinton Aiken on Wednesday, July 13, 2022 for an in-depth introduction to React Hooks patterns and best practices.
This 2-hour event will be held virtually over Zoom and audience participation is highly encouraged to get the most out of the session! Please be sure to bring all your questions as there will be a dedicated time during the last 30 minutes for Q&A with Quinton.
Please visit www.skilledinc.com or www.hacktheinterview.io for further information on mentorship and upskilling opportunities.