Description
Join us on Friday, April 13, 2018, for a public lecture by John Hamer entitled, "Re-Examining Priesthood in the Restoration." All are welcome as we explore the historical, theological, and scriptural bases for the priesthood in the Restoration Movement.
This event will include a Q&A with Apostle Robin Linkhart (Community of Christ) following the lecture.
Coffee, tea, and snacks will be available. Follow signs for the Clarence Room and/or Community of Christ.
Lecture Description:
Early members of the Restoration (also known as the Latter Day Saint movement) believed that the original practices of Jesus and the apostles had been lost and corrupted in history due to a "Great Apostasy." Their hope was to "restore" those first practices and beliefs and thus restore true Christianity to the world. Nearly two centuries later, with the benefit of the academic disciplines of history and literary criticism, we have a much clearer picture of Jesus' movement and the earliest Christianities. Focusing on the idea of priesthood in particular, this presentation will contrast the earliest Christian conceptions with those of Joseph Smith Jr. and his contemporaries, and consider implications for the Restoration movement today.
John Hamer is a past president of the John Whitmer Historical Association and is historian for Community of Christ's Canada East Mission. He is co-editor of Scattering of the Saints: Schism within Mormonism and co-author of Community of Christ: An Illustrated History. In Community of Christ, John holds the priesthood office of Seventy and serves as the pastor of the Toronto congregation. John is a frequent blogger and podcaster with appearances on Mormon Stories, Feminist Mormon Housewives, and Infants on Thrones, among others.
---
See poster below.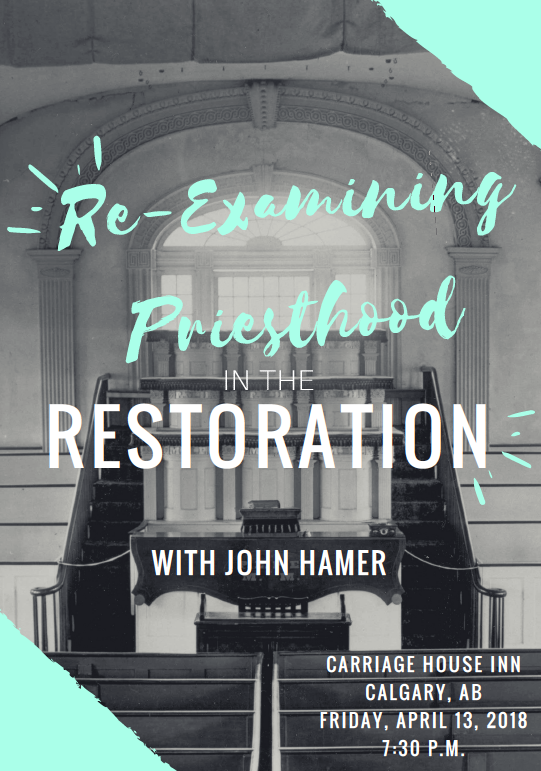 John Hamer

Community of Christ

Pastor, Toronto Centre Place

Robin Linkhart

Community of Christ

Apostle