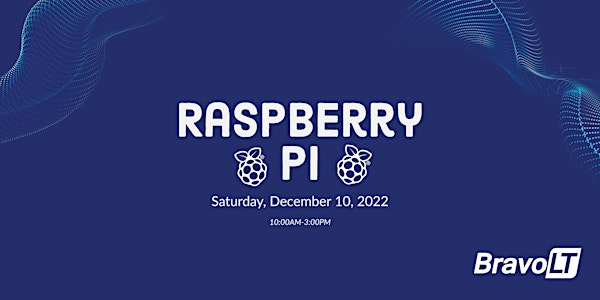 Raspberry Pi: Advanced Youth Coding Camp
Expand your coding skills during this interactive, hands-on session!
When and where
Location
Bravo LT 40 Monroe Center Street Northwest #Suite 11 Grand Rapids, MI 49503
About this event
WHAT: A five-hour advanced computer youth camp for children ages 12 to 16 years of age with a foundational understanding of coding or any camper who has participated in our camp in the past.
WHEN: Saturday, December 10 , 2022, 10:00 am - 3:00 pm
PURPOSE: The Raspberry Pi Youth Camp, led by Bravo LT computer scientists, aims to ignite a passion for technology and programming in the children of our community through the use of a Raspberry Pi device (a low-cost, credit-card-sized computer).
This session of camp will be an advanced version focused on a variety of different intermediate and open-ended coding challenges.
COST: Bravo LT is offering this camp at a $25 cost; however, there are scholarship opportunities available. For more details on how to apply please contact Katie Weatherholt, katherine.weatherholt@bravolt.com. Each participant will be provided with lunch and a camp t-shirt.
PARKING: Parking meters are available along Monroe Center NW and are reservable in one hour time blocks. There is also a loading zone in front of Bravo LT that can be used, for free, for several minutes for quick drop offs or pick ups. We also recommend the Monroe Center parking garage and the Pearl Ionia parking garage for longer parking. Parents will be asked to leave their children and may relax in one of the many coffee shops or restaurants along Monroe Center NW or in Grand Rapids, or they may leave and come back at the conclusion of the session.