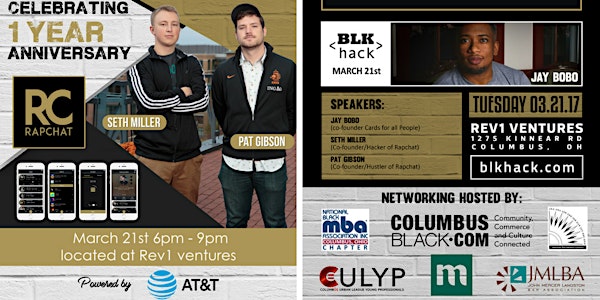 Rapchat Takeover
When and where
Location
Rev1 Ventures 1275 Kinnear Road Columbus, OH 43212
Description
BLK hack Turns 1 this year. We have covered a lot of topics this year, and we are just getting started. As we celebrate contributing to the startup ecosystem in Columbus Ohio, We will also be celebrating the launch of 2 new BLK hack chapters. As we Launch Cleveland and Cincinnati we will focus even more on uniting all of Ohio in our Diversity and Inclusion efforts. We learned the process of starting a business and the passion needed to keep you going is the same no matter what industry you're in. Great customer service, great product, and building a great team around you will get you get traction faster. Trust the Process.
Jay Bobo will be back for a recap to talk about his success with cards for all people and running a successful e-commerce business. The founders of Rapchat will Takeover BLK hack and discuss how they turned their love for rap into a venture backed startup.
Rapchat is an app that lets you create, share, and discover freestyle raps. We supply beats from upcoming producers, provide a mobile recording studio and the platform to showcase your creations. In the last year alone, over 5M+ raps have been created on the app
Speakers:
Jay Bobo:
Developer & Serial Entrepreneur, Founder of Cards for all People
Seth Miller & Pat Gibson:
Hacker and Hustler duo are the Founders of Rapchat
6:00pm - 7:00pm - Networking Hosted by: Super Groups
7:00pm - 7:15pm - Announcements
7:15pm - 7:35pm - Jay Bobo recap w/ Q&A
7:40pm - 8:30pm - Rapchat Takeover w/ Q&A
8:30pm - 9:00pm - Post Networking
We are truly passionate about helping our community of forward thinkers, future leaders, entrepreneurs, and startups succeed. And we would love for you to join us.
Our next event is March 21st. The event will be held at Rev1 Ventures, a hub for creative and successful start-ups located at 1275 Kinnear Rd, Columbus, OH 43212.
The event starts at 6:00 pm until 9:00 pm and there's plenty of parking!
SIDE NOTE: I wanted to let you know about a fantastic opportunity held this summer in Columbus! SEA Change is a 14-week program that takes entrepreneurs interested in making a measurable social change and helps them move forward further, faster. The proven curriculum includes basic business knowledge and relies on a "reverse classroom model" to encourage entrepreneurs to self-teach then reinforce their online learning with in-person support. The accelerator culminates in a pitch event where the top entrepreneurs are awarded cash and prizes to help them with their next steps.
The application window will open on March 17, but in the meantime SEA Change is looking for:
Participants – interest form: https://goo.gl/forms/OmF8DvQUvY80bqXR2

Volunteer Advisors – Mentors and Facilitators – Interest form: https://goo.gl/forms/yTM4dQb846A2PofR2

Financial and other support (consulting, legal, etc.) – email info@seachangeohio.org for more information