We are graduate workers across all departments and colleges committed to improving working conditions for all graduate workers at UNM.
About this event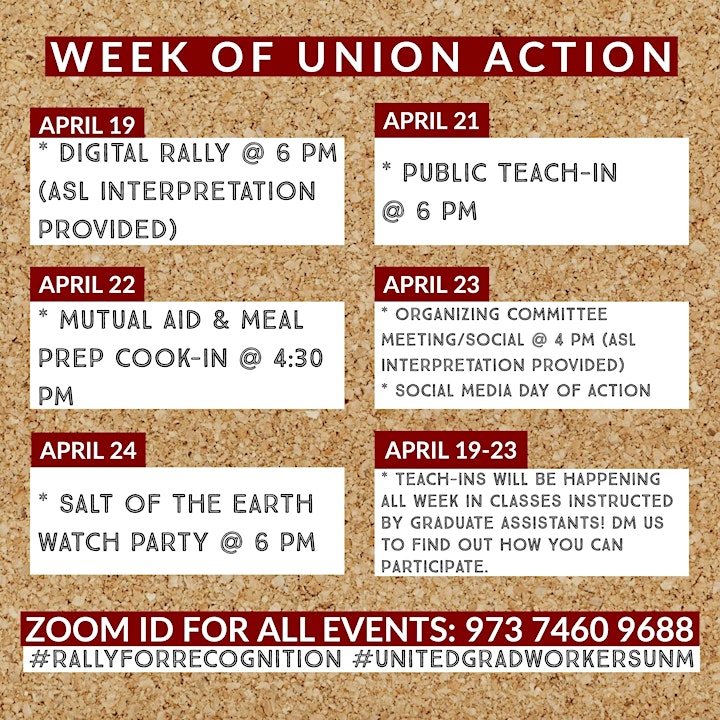 The meeting ID is the same for all events during our Week of Union Action.
The United Graduate Workers union hosts Rally for Recognition: A Week of Union Action. Currently, we are in the middle of a hearing with the New Mexico Public Employees Labor Relations Board because UNM is arguing that we are not employees and should not be covered by the Public Employee Bargaining Act. We are fighting a legal battle with UNM over this in order to resolve long-standing issues over compensation, benefits, and job security and to improve education and research conditions. Despite contributing significantly to research and teaching, graduate workers at the University of New Mexico have long struggled with precarious working conditions and base annual compensation that falls thousands of dollars below a living wage.
Show your support at a virtual rally on Monday, April 19th at 6pm! Call upon UNM to drop their ridiculous taxpayer-funded legal battle. Tell the UNM administration to stop fighting to keep graduate workers in poverty and unsafe working conditions.
Regardless of what UNM tries to argue, we have already unionized and we aren't going anywhere. Over 1,000 graduate workers, a supermajority, have joined our union and we will continue to fight for our rights until we win recognition and negotiate a contract that improves our wages and working conditions!
Here is our full schedule of events:
--Monday, April 19th, 6:00pm (MDT): Virtual Rally (ASL Interpretation Provided)
--Wednesday, April 21st, 6:00pm (MDT): Public Teach-in
--Thursday, April 22nd, 4:30pm (MDT): Mutual Aid & Meal Prep Cook-in
--Friday, April 23rd, All Day: Social Media Day of Action
--Friday, April 23rd, 4:00pm (MDT): Organizing Committee Meeting/Social (UGW Members Only, ASL Interpretation Provided)
--Saturday, April 24th, 6:00pm (MDT): Salt of the Earth Screening
Register for the rally on Monday for the zoom link for all events.
Check our our website to learn more about us!
If you are a grad worker at UNM, please take a moment to fill out our bargaining survey. The survey takes about 15 minutes to complete and will help the union put pressure on the admin as we head into negotiations. We want to represent your voice!
If you haven't already, sign our petition to UNM. We're calling on the UNM administration to recognize our union and stop trying to stall the legal recognition process. Please sign to support our right to unionize!