Raleigh Mini Maker Faire hosted by Wake Technical Community College

Saturday, September 23, 2017 from 10:00 AM to 4:00 PM (EDT)
Event Details
FAQs:
What day(s) and hour(s) will Raleigh Mini Maker Faire be open to the public?
Saturday, September 23 10:00am - 4:00pm
Can I purchase tickets at the event?
Yes. However, tickets sold at the event will be cash only.
Where can I park?
The following lots will be available for parking at the event: A, B, C, D, E, F, L, and N
Here is a link to our campus map: http://raleigh.makerfaire.com/wp-content/uploads/sites/164/2016/06/Main_Campus.pdf
Where is the handicap parking located?
Handicap parking spaces are marked in each of the available parking lots
Where can I park my RV?
RVs may park in lot P or S
Here is a link to our campus map: http://raleigh.makerfaire.com/wp-content/uploads/sites/164/2016/06/Main_Campus.pdf
Will you have bike parking?
Bike racks are available at our campus
Can I volunteer at the Mini Maker Faire?
We would love to have your participation as a volunteer. Please follow this link to volunteer: http://raleigh.makerfaire.com/volunteer/
What if it rains?
The show will go on! Bring rain gear to keep you dry when walking outdoors. Fortunately, we will have many indoor exhibits to keep the family dry.
What can I expect?
To have a fantastic time! You'll be surprised and intrigued with every corner that you turn.
Rain or Shine. Tickets cannot be replaced.
 
Raleigh Mini Maker Faire is independently organized and operated under license from Maker Media, Inc.  
I understand that by registering here,  Maker Media may provide me with updates and information about Maker Faires, other events, and products of interest to the maker community.  I understand that I may opt out of these communications at any time.
When & Where

Wake Technical Community College
9101 Fayetteville Rd.
Raleigh, NC 27603


Saturday, September 23, 2017 from 10:00 AM to 4:00 PM (EDT)
Add to my calendar
Organizer
About YOUR CITY'S Mini Maker Faire:
About Maker Faire:
Maker Faire is the Greatest Show (and Tell) on Earth—a family-friendly showcase of invention, creativity and resourcefulness, and a celebration of the Maker Movement. It's a place where people show what they are making, and share what they are learning.
Makers range from tech enthusiasts to crafters to homesteaders to scientists to garage tinkerers. They are of all ages and backgrounds. The aim of Maker Faire is to entertain, inform, connect and grow this community.

The original Maker Faire event was held in San Mateo, CA and in 2016 celebrated its eleventh annual show with some 1300 makers and 150,000 people in attendance. World Maker Faire New York, the other flagship event, has grown in five years to 900+ makers and 90,000 attendees. Thirty-one larger scale Maker Faires occur in cities around the world—Detroit, Atlanta, Berlin, Paris, Rome, Tokyo, and Shenzhen to name a few— and over 150 community-driven, independently organized Mini Maker Faires are now being produced in the United States and in 34 other countries around the world.
About Make: Magazine: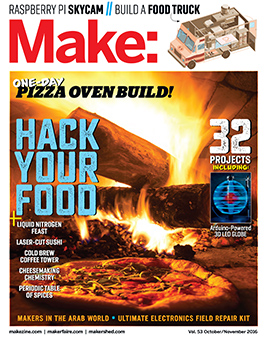 Make: is the first magazine devoted entirely to Do-It-Yourself (DIY) technology projects. Make: unites, inspires, informs, and entertains a growing community of resourceful people who undertake amazing projects in their backyards, basements, and garages. Make: celebrates your right to tweak, hack, and bend any technology to your will. Download a free issue here.
Besides the magazine and the faire, Make: is:
a vital online stream of news and projects, blog.makezine.com;
a retail outlet for kits and books, the Maker Shed;
a steady stream of fun and instruction via our YouTube channel;
Make: Projects, a library of projects with step-by-step instruction;
a publisher of best-in-category titles via Make: Books, including introductions to electronics, Raspberry Pi, 3D printing, Arduino and more.
About Our Host
Wake Tech is North Carolina's largest community college, serving more than 71,000 adults annually, with five campuses, three training centers, multiple community sites and a comprehensive array of online learning options. Wake Tech is fully accredited and offers more than 200 associate's degrees, diplomas, and certificates that prepare students for university transfer or immediate employment.  The college offers non-credit continuing education programs that include customized workforce training, small business support, public safety officer training, basic skills courses such as English as a Second Language and high school equivalency preparation, and other courses for personal enrichment.  Wake Tech also serves high school students at Wake Tech Early college of Health and Sciences and the Vernon Malone College and Career Academy, in partnership with Wake County Public Schools.
Wake Tech is committed to promoting and supporting Science, Technology, Engineering, Art and Math (STEAM). Strong STEAM skills are a central element of a well-rounded education and the innovation of "makers" in STEAM fields is closely linked with our community's economic prosperity and contribution to the nation and the global economy.  The Raleigh Mini Maker Faire will foster a growing "maker" community in Wake County and serve to promote new makers and entrepreneurship by providing a venue for networking, hands-on activities, workshops, lectures, and demonstrations.  Wake Tech will also utilize this opportunity to expand our dedication to increasing the number of women in STEM careers.