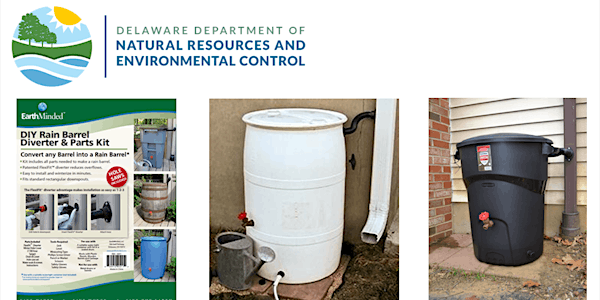 Rain Barrel Building Workshop
Join the Delaware Department of Natural Resources and Environmental Control (DNREC) for a free Rain Barrel Building Workshop!
When and where
Location
Nanticoke River Marina (Outdoors under pavilion) 26 Market Street Blades, DE 19973
About this event
Homeowners in certain watersheds can get a break on the cost of rain barrels through a program being offered by the state. The Delaware Department of Natural Resources and Environmental Control (DNREC), Nonpoint Source Program is hosting a free rain barrel building workshop on Saturday, April 9th, at the Nanticoke River Marina in Blades, DE. Participants may arrive any time between 9AM - 11:30AM. One rain barrel per household. Participant may bring family or friends- register for only one ticket.
Attendees will learn about the benefits of using rain barrels and receive a 55-gallon rainwater collection system. The Workshop is open for Delawareans who live in any of the following watersheds listed below.
To identify which watershed you live in, visit https://delawarewatersheds.org/find-your-watershed-address/ and enter your address in the "Find Your Watershed" tool.
Follow the instructions for using the tool on the Delaware Watersheds website (email philip.miller@delaware.gov or call 302-290-3578 for questions):
Eligible watersheds include: *Note- all watersheds within Delaware's portion of the Chesapeake Bay watershed/basin are eligible*
Appoquinimink Watershed
Broadkill Watershed
Chester Watershed
Choptank Watershed
Chesapeake Bay Watershed/Basin (Anywhere within this basin)
Christina Watershed
Inland Bays Watershed
Little Assawoman Bay Watershed
Nanticoke Watershed
Pocomoke Watershed
St. Jones River Watershed
Wicomico Watershed
During the workshop, DNREC will provide free kits that convert plastic drums donated by Painted Stave Distilling, into rain barrels. Attendees will be provided an overview of rain barrels including the benefits, proper use, assembly, and maintenance. Next, attendees can choose to construct their rain barrel with guidance or be assisted by a DNREC representative who will assemble the rain barrel. All supplies are provided, and participants will leave the workshop with the rain barrel. Participation is limited to the first 20 registered in eligible watersheds.
A rain barrel is a system that collects and stores rainwater from rooftops that would otherwise be lost to runoff and diverted to storm drains and streams. Rain barrels help improve the health of local waterways and save homeowners money on water use.
*If you have questions or need to cancel, please notify philip.miller@delaware.gov 302-608-5468 and cancel your ticket on Eventbrite. Please provide at least 24 hours notice so your slot can be filled.*
Thank you!