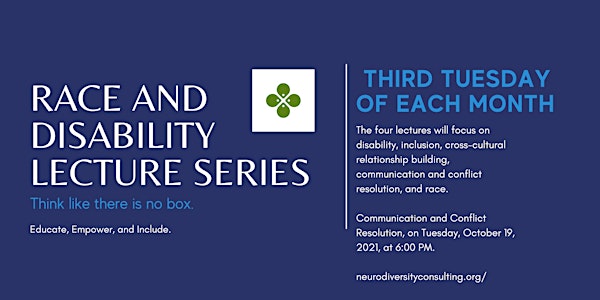 Race and Disability Lecture Series
Meaningful conversations about the intersection of race and disability.
Refund Policy
Contact the organizer to request a refund.
Eventbrite's fee is nonrefundable.
About this event
Our Race and Disability Lecture Series focuses on educating, empowering, and including stakeholder voices in the conversation about the black community's intersection of race and disability. Our goal is to engage in meaningful discussions addressing the problems that the black disabled community face. Registered participants will receive a certificate for their attendance.
Session One
• Conflict: Communication Matters
• October 19, 2021, 6:00 PM
• In the first of our four lectures on race and disability, we focus on maintaining open and meaningful communication when conflict over contentious issues arises. Presenter, Joshua King.
Session Two
• Cross-cultural Relationship Building
• November 16, 2021, 6:00 PM
• Each of us carries a set of assumptions and beliefs that arise from our experiences with the people we most commonly interact with. This lecture will explore how to manage those assumptions and ideas to open doors for mutual understanding. Presenters, Jeremy Pierce, and Samantha Pierce.
Session Three
• Race and Disability
• December 21, 2021, 6:00 PM
• Building on previous lectures, this lecture will focus on how race and disability intersect and impact the lives of disabled racial and ethnic minorities. Presenter, Jeremy Pierce.
Session Four
• Disability and Inclusion
• January 18, 2021, 6:00 PM
• In this final lecture, we discuss how we can create disability-inclusive environments informed by the realities of the intersection of race and disability. Presenters, Liza Citron and Scott Davis.