A celebration of projects demonstrating the use of R by staff and students in the UCL community as part of the UCL Festival of Code.
About this event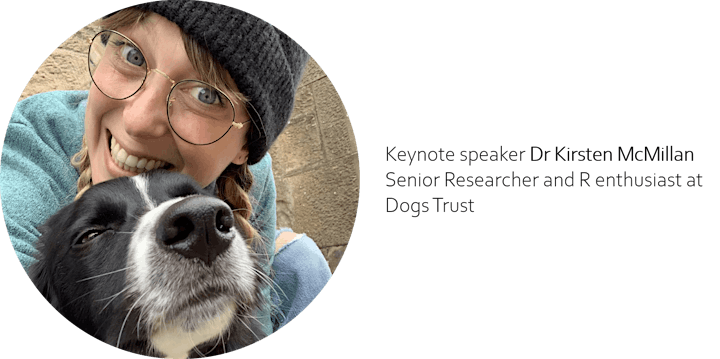 Overview
The UCL R Project Showcase 2021 will bring R users from across UCL together for a free online event. It will showcase the work of undergraduate, Masters and PhD students and early-career researchers through short talks on projects that use R.
The event is organised by the UCL R User Group and as part of the UCL Festival of Code coordinated by the UCL eResearch Domain. For details of all events, please see the festival webpage. Follow the events on Twitter @eResearch_UCL #UCLRShowcase #UCLCodeFest
Programme
Speakers will present 'Pecha Kucha' talks formed of 20 slides (or images) that are shown for 20 seconds each (6mins 40s, slides can be repeated). A Book of Abstracts is available.
--
10:00 – 10:05 Welcome (Ellen Webborn and Scott Allan Orr)
10:05 – 11:00 Keynote: Kirsten McMillan, Dogs Trust: From frogs to dogs: using R to tell a story
11:00 – 11:15 Break
11:15 – 11:35 Session 1: Code Development (2 talks)
11:15 – 11:25 Alice Burleigh: Automating genetic variant prioritisation in rare disease gene hunting
11:25 – 11:35 Jonathan Bourne: Everything you ever wanted to know about SETSe but were too afraid to ask
11:35 – 12:55 Long Break (1h 20mins)
12:55 – 14:10 Session 2: Visualisations (7 talks)
13:00 – 13:10 Nicole Watson: Visualising characteristics of future energy models
13:10 – 13:20 Yaning Wu: Can you hear the sirens? Presenting ambulance response patterns during a coronavirus surge using multimedia
13:20 – 13:30 Indigo Brownhall: Creating and Visualising a Sanitation Risk Index in Antanarivo, Madagascar
13:30 – 13:40 Thomas Savy: Using R to elucidate signalling pathways that define glioblastoma cell fate
13:40 – 13:50 Max Beesley: Using R to investigate single-cell transcriptomic data
13:50 – 14:00 Inga Usher: Exploring the multi-omic landscape of chordoma
14:00 – 14:10 Susanna Pagni: The secrets of DNA: a journey with R
14:10 – 14:25 Break
14:25 – 14:45 Session 3: Modelling (2 talks)
14:25 – 14:35 Naomi Launders: Clustering of physical health conditions in people with severe mental illness
14:35 – 14:45 Lucie Gourmet: Evolutionary forces shaping phenotypes of cancer progression
14:45– 15:00 Break for judges to confer
15:00 – 15:10 Winners announced (best speakers and funding recipients for useR!2021)
There will be 3 prizes of £50 vouchers for the best presentations selected by the judges: one to be awarded to either an undergraduate or Master's student, and two to be awarded to either PhD students or ECRs (based on submissions received).
Kirsten (see header image) joined the newly formed Research Team at Dogs Trust in June 2017, after completing a PhD at the Institute of Zoology (ZSL London Zoo), focusing on the spatial epidemiology of an amphibian emerging infectious disease. She is now a Senior Researcher within the Research Policy and Impact Evaluation team, where she focuses on canine ecology and population management. She leads the UK Pet Dog Population Project which aims to establish a population baseline for pet dogs within the UK, while also providing a greater understanding of the dog population as a whole, including breed-specific life expectancy, spatial density and distribution, demographics and regional trends. Her research passion lies within the application of spatial statistics and data visualisation to better inform management strategies – all of which are carried out in R. She aims to use these methodologies to improve canine welfare, both within the local and national environment.
Competition for funded places to attend the (virtual) useR!2021 conference
We are able to provide a small number of funded registrations for students to attend the virtual useR!2021 conference. This is an excellent opportunity to learn about a wide range of applications of R, current advances, and connect with a truly global community. We highly recommend attending. Students who were awarded this funding will be announced during the programme.
--
Header image and logo produced by Emily Long (MSc Data Science for Cultural Heritage, 2020-2021)