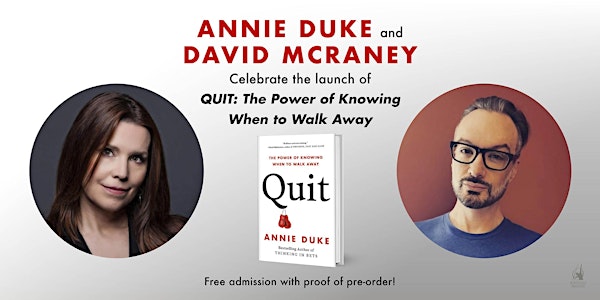 QUIT: A Conversation and Q&A with Annie Duke and David McRaney
Pre-order QUIT to join this live virtual event and Q&A with Annie Duke and David McRaney!
About this event
Join Annie Duke, bestselling author of Thinking In Bets and How to Decide, to celebrate the release of her new book QUIT: The Power of Knowing When to Walk Away.
Annie will be interviewed by David McRaney, internationally-bestselling author, most recently of How Minds Change, and host of the podcast You Are Not So Smart.
We live in a society that values perseverance, determination, and stick-to-it-iveness: in other words, that values "grit" over "quit." But sometimes, quitting can help you avoid catastrophic losses - and lead you to unimaginable success on your next endeavor.
Annie and David will talk about why it's so hard for us to cut our losses and walk away - whether we're leaving a poker table, a dead-end job, a flailing start-up, or a toxic relationship. They'll also offer advice drawn from their research on how to set ourselves up for success when we quit.
Getting good at quitting might just be the key to your success. Learn how with QUIT and this exclusive live event.
Haven't ordered your copy yet? Click here to pre-order QUIT and gain access to this event.
**This is a virtual event that will be hosted on Zoom -you will need access to a computer or other compatible device and sufficient Internet access. If you have not used Zoom before, you may consider referencing