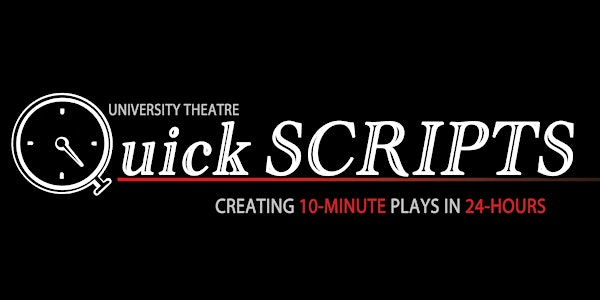 Quick Scripts
Given only a prompt and 24-hours total prep time, four writers, directors, and cast write, rehearse, and perform four 10-minute plays.
When and where
Location
Kennedy-McIlwee Studio Theatre 2241 Dunn Avenue Raleigh, NC 27695
About this event
See how four different writers, directors, and casts interpret the same prompt with just 24-hours notice in this one-hour free theatrical event.
Playwrights will receive a prompt, provided by the community, just a few days before the performance. They will have 24 hours to write a 10-minute script which is then provided to four different directors. These directors will have 24 hours to read, research, and cast the show before the script is then provided to the actors on Friday night. Actors will then spend 24 hours reading and rehearsing the piece for a free 8pm performance Saturday night.