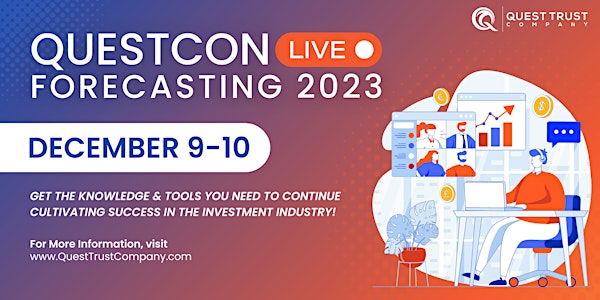 Quest Con Live: Forecasting 2023
This December our annual end-of-the-year online conference, Quest Con Live, returns!
About this event
After a couple of unpredictable years, life is finally getting back to normal, meaning real estate investors across the country are ready to take 2023 head-on!
Join us for our Quest Con Live: Forecasting 2023 virtual event this December 9th and 10th for over 10+ insightful panels and presentations. You'll have an opportunity to ask the experts any questions you may have wondered and learn information that will help you as you continue investing for next year. Listen as the experts discuss everything from the current state of real estate investing, real estate and private lending strategies, and other economic topics that will help investors as they transition into 2023. Don't miss your opportunity to connect directly with a group of the best experts!
If you've been wondering…
What some common trends are in the SDIRA world
What current legislation changes impact your IRA
Tips for real estate investing and private lending & borrowing
If an SDIRA is suitable for you
Current real estate forecasts and what to predict
…then be sure to register for this huge end-of-year event!
Get your ticket today and don't miss Quest Con Live: Forecasting 2023!
**This event will be streamed live via YouTube. Keep an eye out in your email for the YouTube link the week of the event. You must register to attend this event.