Description
Query Tuning with Execution Plans by Grant Fritchey
Description
Level 200 - Intermediate
At least 80% of all database performance problems can be related directly to your T-SQL code and your data structures. This full-day workshop gets right to the heart of that issue and shows you how to identify common performance problems using the tools available to you within SQL Server.
With the problems identified, we then proceed to figure out how to address those problems using execution plans to understand the choices made by the query optimizer. You'll learn multiple ways to capture execution plans, how to interpret them, and how to query them directly. All the examples and scripts will be immediately applicable to your systems. You can address your performance problems in order to make your T-SQL code run faster.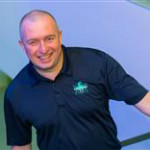 Speaker
Grant Fritchey is a Data Platform MVP with over 20 years' experience in IT, including time spent in support and development. He has worked with SQL Server since 6.0 back in 1995. He has also developed in VB, VB.NET, C#, and Java. Grant has written books for Apress and Simple-Talk. Grant presents at conferences and user groups, large and small, all over the world. He joined Redgate Software as a product evangelist in January 2011.
Additional information
Lunch, snacks and printed workshop material is included. Registration for the free SQLSaturday event on September 3rd must be done through the SQLSaturday #532 Oslo website.