Description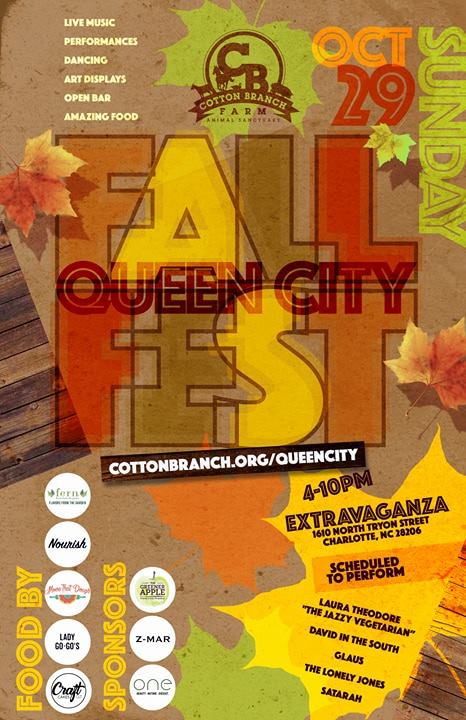 ---
Cotton Branch Animal Sanctuary is starting a new tradition! DamFest at Lake Wylie is becoming Queen City Fall Fest! Our biggest fundraiser of the year is moving to Extravaganza Depot in Charlotte October 29th and we hope you'll join us. We'll have live music and entertainment, along with great food and an open beer and wine bar – all with a view of the beautiful uptown skyline.
---
Our lineup includes:
Laura Theodore - the Jazzy Vegetarian
David in the South - folk musician and vocalist
The Lonely Jones - alternative rock
Satarah - belly dancers, fire performances, aerial performers

A cooking demo by Matthew Martin - executive chef at Fern, Flavors from the Garden

An appearance by Erin Fergus - Plant based physique competitor, educator and trainer

Food by Fern, Flavors from the Garden, Nourish, Craft Cakes, Lady Go-Go, and Move that Dough.
---
Ticket Includes:
Live Entertainment
Plant-Based Cuisine from Local Businesses
Open Bar of Beer/Wine
Cash Bar Available for Liquor
---
Sponsors:
Date and Time
Location
Refund Policy