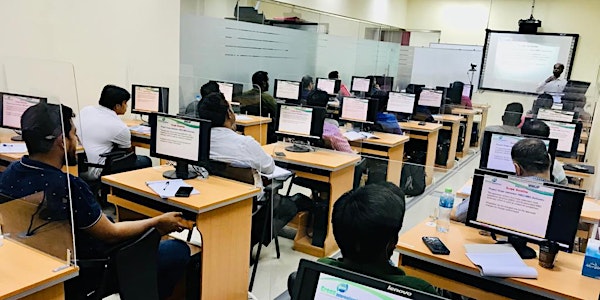 QCDD MECHANICAL STUDY MATERIALS | QCDD MECHANICAL EXAM SAMPLE QUESTIONS
Green International, Qatar is a Leader in UPDA Exam Preparation. Project Management Training, QCCD Certificate Exam Preparation
When and where
Location
Green International Ibn Seena Street, Papa Johns Al Muntazha DOHA, QATAR, Doha 55576 Qatar
About this event
13 days 3 hours

Mobile eTicket
QCDD Exam for Mechanical Engineers | QCDD MECHANICAL | QCDD EXAM ELIGIBILITY REQUIREMENTS | QCDD MECHANICAL STUDY MATERIALS | QCDD MECHANICAL EXAM SAMPLE QUESTIONS | QCDD MECHANICAL MOCK TEST | QCDD MECHANICAL EXAM REQUIREMENTS | QCDD MECHANICAL EXAM QATAR | QCDD CERTIFIED MECHANICAL ENGINEER | QCD CERTIFIED ENGINEER | QCDD EXAM REQUIREMENTS
QCDD Exam for Mechanical Engineers
Green International Qatar is a Leading, Pioneer, and Highly Success Rated Training provider with a Customized Syllabus, Study Materials, Sample Questions, and Exam-focused training by the Industry expert Trainer with more than 30 Years of Professional Experience.
QCDD Mechanical Engineering Training helps you to clear the QCDD exam easily on your first Attempt and the course is designed to improve your knowledge and proficiency in NFPA Standards, and QCDD Regulations.
Regulations implementation until obtaining QCDD clearance approvals, which will be very beneficial to perform your project roles efficiently.
Green International is a Professional organization providing the best quality services for Qatar Engineers in achieving their QCDD License in Qatar and becoming QCD CERTIFIED ENGINEER.
#Do not miss the early chance to achieving a QCDD Engineer License
#Prepare Smart with Green International's QCDD Mechanical Course
#Highly Exam focused Study Materials and QCDD Exam Sample Questions
Join the Green Intl's QCDD Mechanical Course for 15 Hrs. and become an MME Licensed Engineer
High Success rated QCDD Exam for Mechanical Engineers Preparation Course in Qatar
Green International's QCDD QATAR MECHANICAL EXAM focused coaching for mechanical Engineers is a classroom / Virtual Live Exam Preparation training course based on the convenience of the participants
Training is conducted by Expert professionals in the industry using the unique practical approach and hands-on training strategies
You can learn and refresh the key principles, regulations, and implementation strategies without any stress.
The customized QCDD mechanical Study Materials developed for QCDD Exam for Mechanical Engineers are well Structured in creating a strong Knowledge of QCDD Rules and Regulations and their Practical Applications in the Fire safety field with the Knowledge of NFPA Standards and International Codes for Approvals.
QCDD Exam for Mechanical Engineers
Our highly successful course has been customized with the collection of QCDD Exam questions shared by our training participants shared in multiple WhatsApp groups.
Our QCDD exam sample questions with answers and explanations with references will greatly help in clearing the exam in 1st attempt and achieving QCDD License to sustain your professional growth and become a QCDD CERTIFIED MECHANICAL ENGINEER in Qatar
QCDD EXAM REQUIREMENTS
The detailed QCDD Exam requirements shall be obtained from our website: QCDD Exam Preparation Qatar | QCDD Mechanical Exam Preparation
Highlights of Green International High Success Rated QCDD Mechanical Course
Customized QCDD Exam syllabus and study materials to ensure success
QCDD Exam sample questions with validated Answers
High-Quality Video Recordings of each session shared in the dedicated WhatsApp group
30 years experience and QCDD Certified Experts as Trainers
Get trained until achieving the success in QCDD Exam
Free Consultation and service by our expert consultants
Achieve success in 1st Attempt with our Highly focused Exam focused coaching – Save 76% efforts with Smart Preparation @Green International
High Success rated UPDA Exam Training in Qatar than any other training provider (96% success rate)
Save your hard-earned money with a High Success Rate training provider
We are happy to update the Training Schedule for Nov-Dec' 2022
PMP - PROJECT MANAGEMENT PROFESSIONAL
14/12/2022, Sat-Mon-Wed, 7-10 pm for 45 Hrs
CFM - Certified Facility Manager
25/12/2022, Sun & Tue 7:00 pm– 10:00 pm 36 Hrs
CCP- CERTIFIED COST PROFESSIONAL
20/12/2022, Sun-Tue-Thu, 7-10 pm for 35 Hrs
UPDA Civil
11/12/2022, Sun-Tue-Thu, 7-10 pm for 30 Hrs
UPDA Mechanical
11/12/2022, Sun-Tue-Thu,7-10 pm for 30 Hrs
UPDA Electrical, Electronics, Instrumentation, Communication Engg.
11/12/2022, Sun-Tue-Thu,7-10 pm for 30 Hrs
UPDA Architecture
28/12/2022, Sat-Mon-Wed, 7-10 pm for 21 Hrs
UPDA – Chemical, Petro-Chemical
10/12/2022, Sat-Mon-Wed, 7-10 pm for 24 Hrs
Qatar Civil Defence (QCDD) Exam Preparation- Mechanical
28/12/2022, Sat-Mon-Wed, 7-10 pm for 15 Hrs
Qatar Civil Defence (QCDD) Exam Preparation- Electrical
29/12/2022, Sun-Tue-Thu, 7-10 pm for 15 Hrs
Qatar Civil Defence (QCDD) Exam Preparation- Architecture
31/12/2022, Sat-Mon-Wed, 7-10 pm for 15 Hrs
LEED Green Associate (LEED GA)
26/12/2022, Sat-Mon-Wed, 7-10 pm for 15 Hrs
Primavera (P6)
19/12/2022, Sat-Mon-Wed, 7-10 pm for 24 Hrs
Revit Architecture
13/12/2022, Sun-Tue-Thu, 7-10 pm for 30 Hrs
Revit MEP
14/12/2022, Sat-Mon-Wed, 7-10 pm for 30 Hrs
NEBOSH IGC LEVEL 3
19/12/2022, Monday to Wednesday, 7.00 pm- 9:00 pm
NEBOSH PSM LEVEL 4
16/12/2022, Fridays Only, 2:00 pm – 5:00 pm
IOSH MS
28/11/2022, Friday Only, 2.00 pm – 5.00 pm
18th Dec – 25th Dec. 2022 Sunday Only, 7.00 pm – 9.00 pm
15th Jan – 22nd Jan. 2023 Sunday Only, 7.00 pm – 9.00 pm
19th Feb – 26th Feb. 2023 Sunday Only, 7.00 pm – 9.00 pm
IELTS
27/12/2022, Sun & Tuesday, 7:00 pm – 9:00 pm
CMA
02/12/2022, Tue & Friday, 7.00 pm – 10.00 pm
NVQ
16/12/2022, Friday Only, 2:00 pm – 4:00 pm
OTHM
09/12/2022, Friday Only, 2.00 pm – 4:00 pm
aPHRI – Associate Professional in Human Resources
16/12/2022 Fridays, 4:00 pm – 6:00 pm
ISO 45001:2018
25th Nov-23rd Dec 2022 (05 Friday weekend batch) 10:00 am – 4:00 pm
ISO 13485:2016
19th-25th December 2022 (5Days Morning batch) 10:00 am – 4:00 pm
Contact our Expert Consultants:
UPDA & Management Training Programs Team
Mob/WhatsApp: +974 6646 4941 / 3340 3359 / 5501 6247
Health & Safety, CFM, ISO Training Programs Team
Mob/WhatsApp: +974 3084 4322 / 7764 7600 / 3098 8433 / 7764 7699 / 3111 4862
Tel: +974 4476 0135 / +974 4476 0546
https://www.facebook.com/groups/updammupexampm