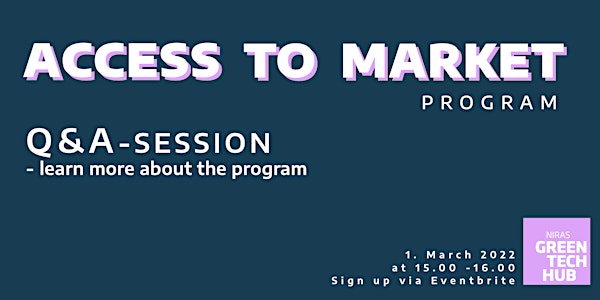 Q&A-session: Are you fit for our ACCESS TO MARKET Program?
Get ready to apply to our new ACCESS TO MARKET Program, where you get access to NIRAS experts, projects and selected clients
About this event
Q&A-session:
This Q&A-session is your change to learn more about the details of the program, the application process and ask questions like…
What does the program consist of?
Are you at the right stage?
What to expect from the program?
How many challenges can I apply for?
How many resources would we need to spend on participating? And what about time spend, physical presence etc…
Which clients and projects in NIRAS will we get access to?
How will NIRAS support the startups during and after the program?
How do we get access to projects and to what contacts?
How does the match-making work?
And many more..
We are stand by to share a lot more about the Program and we look forward to answer your questions.
Read more about the specific challenges: https://nirasgreentechhub.dk/programs/
Application deadline: 7th marts 2022
Apply here: https://forms.gle/QszkXKPUdApPVJnA8
About the program:
Would you like for your startup to access NIRAS projects and experts working on more than 7.000 ongoing global projects on a mission to become greener?
If we wish to stay below 1,5-degree temperature rise globally and honor the Paris agreement, changing the way we live, build, and consume is inevitable.
In NIRAS engineers are committed to sustainable progress and service delivery.
But we want to do more!
That's why we are offering an ACCESS TO MARKET - Program to green tech startups.
NIRAS is looking to scale green startups by testing and validating their offerings on identified industry issues by adding green innovations on projects.
In the Construction industry, we have huge problems with embedded CO2 and barriers to using recycled materials.
In the Food & Bev area, alternative products are blooming, and the need in the market for these types of products is huge. Not to mention the possibilities in side streams and bi-products.
Data is becoming more and more invaluable, but how do we utilize, store and extract it?
Startups get:
Get 15 hours of free consulting from NIRAS engineers and project managers.
Establish a relationship with specific customers/clients/partners participating in the program.
Gain validation of your problem-solution fit through market access.
Gain qualification/extended tests resulting in product adjustments.
Get seats in the NIRAS Green Tech Hub.
You are:
A green tech startup.
Ready to scale your production.
At Technology Readiness Level 6-9.
Questions? Reach out to Stine Sivertsen on STMS@niras.dk