Description
EXTRA DATES ADDED
Choose to attend on Tuesday 23rd Feb 6-8pm or Tuesday March 1st 6pm-8pm (Choose your ticket below)
Crowdfunding and Kickstarter a new way to fund your business or all hype!!!
Future Artists MD and Founder of 'Home of Honest Coffee' Mark Ashmore will be hosting a very special event for 30 people at the venue that was funded by 155 backers via Kickstater in March 2014, HOME OF HONEST COFFEE.
Two years on from raising over £5000 in just 28 days on the crowdfunding site, Mark wants to reveal the truth behind a successful kickstarter with the hope of empowering more social and creative entrupeaners to make their projects happen.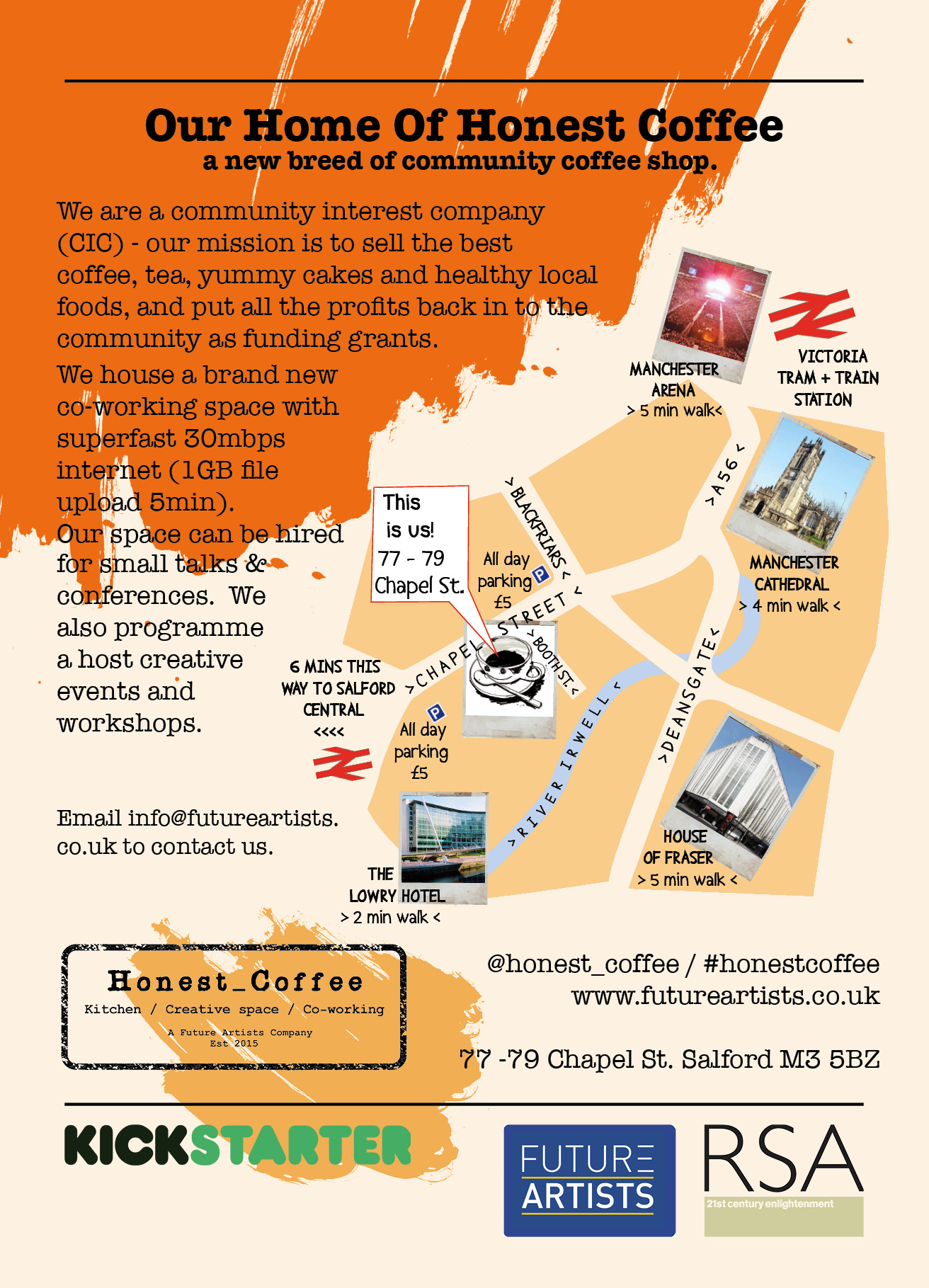 Home of Honest Coffee is a social enterprise with a sense of community at its core, it is both a co-working space with the fastest wifi in Manchester (supplied by Manchester's TELCOM) that is free to use, and can seat around 20 people, as well as hosting events and networking sessions and the odd pop up retail shop to boot.
The cafe uses locally sourced food and veg, and we mean hyper local, our butcher is 500 metres away, we grow our own veg in the basement with hydrophonics, our coffee is roasted just down the road, and our fruit and veg supplier is on Arndale market, we are a small cafe with a huge local impact - and very tasty seasonal food.
Doors open to the event at 6pm on both Tuesday Feb 23rd and Tuesday March 1st for refreshments and the talk will start around 6.30pm and will be an informal Q+A with an introduction from Mark Ashmore, we are charging nothing for the event the kitchen will also be open if you fancied something from our menu too.
The event is scheduled to finish around 8pm so the Honest coffee staff can go home, but conversations can continue after at the Kings Arms :)
This event is 2 years in the making, and Future Artists are looking forward to sharing what they know.
Useful links
Read the Kickstarter https://www.kickstarter.com/projects/futureartists/the-home-of-honest-coffee-manchester
About Future Artists http://futureartists.co.uk/about/
About the speaker Mark Ashmore
Tweet your questions to @honest_coffee